Obstacles: The Choice of Trying or Giving Up
December 3, 2011
Rough and imperfect, but sparkling and exceptional, summer of 2011 was probably the most exciting summer that I've ever had in my life with the trips to Athens, Greece, and to Seoul, Korea. When I heard about the chance to go on a mission trip to Greece with my youth group, I was more than thrilled to be part of the breathtaking journey. Just like any other summer opportunities for teenagers, I had to register back in January of 2011, and surprisingly, that was when we started our training sessions. The training sessions were on Saturday mornings, from 7:30 AM to 11:00 AM. We spent time together as a group praying, listening to the preacher's sermons, learning about how to spread the word of Christ, and preparing for the upcoming journey. We also met on Fridays and Sundays for fundraisers and other events we had to attend. The fact that I had to go to church half of the week was a big problem for me.

Let me tell you, it was a pain to get up earlier than I did for school, to go to a church! Because I live in Annandale, the trip to Centreville was about half an hour, which meant that my parents had to drive at least two hours for me to go to the church. They couldn't enjoy their day off on Saturdays because of me, and it led for me to verify whether I made a right choice.

Not only that, but I wasn't allowed to have a smooth start from the beginning. When I announced to my family that I was planning on going to a mission trip, my dad tried to cut out the root of my plan. I guess you can say that he was being very protective of his daughter, but to me, it was just another obstruction that I had to get over. He was afraid to send this only daughter with a group he didn't really trust, seeing that he wasn't as faithful, to an international country for two weeks. It took me about three weeks to get a semi-approval on going to a nation-wide mission trip to Cherokee, North Carolina, with lots of beggings, and some tears. From that to Greece, was not that big of a deal, because the difference between the costs was about a hundred dollars, and the dates seemed more suitable for my future trip to Korea.

There were several reasons to why I decided to go on a mission trip, specifically to a global place. First of all, even though I had been going to church for my entire life, I didn't believe in my faith that deeply. I just went to church because it was a habitual thing, that Sunday equals church. Then, I started going to the current church, specifically to my youth group, Agape, and I believed in God unlike before. I wanted to grow in God more, and I wanted to do so by joining something that was considered "valuable." Another reason I wanted to be part of the mission team was because the programs in my youth group are praised often and make me want more out of them; I have experienced God during the retreats in summer and winter breaks, and I wanted to keep that going for more than a couple of days!

From January to June, we had many with fundraisers. The cost of the flight to Greece was reaching more than $1,200 per person with two stops, at Chicago, USA, and Brussels, Belgium, and there were also other expenses like food and supplies. Therefore, we all decided to pay $600 individually, and the rest was up to us to earn money for a group of fourteen people. We did food sales, which was a huge success because we got some money without having to work too much. We also did car washes and wedding clean ups that required some endurance and strength. The hardest fundraiser we did, however, was Terrain Walk. Each of us had ten praying partners, who agreed to pray for the individual until the mission date, and they paid us a certain amount of money for every mile we walked in Great Falls, Virginia. Believe it or not, I was one of the few athletic people among the fifteen females, and even I had a lot of trouble keeping up. Although I could not move for the next day, the experience was worth it. I managed to get it through, and we celebrated the success with a party at McDonald's, eating more than $250 worth of food.

As time went by from January to February to March to so on and so forth, my concern of "am I doing the right thing?" arose. My parents and I were constantly fighting about the rides to church, and the fact that my grades were getting worse was a big dilemma. Also, I wasn't friends with other group members, so I felt very uneasy and left out. Once again, I questioned whether I should just quit. One day, there was one girl who didn't do any of the assigned work, so the whole team had to get punished for her by running twenty miles, and that was when I began to talk to others about giving up. I did promise to God that I will do my best to glorify his name, and to become a better child of his, but I couldn't handle it any more. I hated being punished for someone else, while that person doesn't regret her doings, and loathed the leaders for giving such punishment to us. Besides, other people actually had backed out and they seemed to be satisfied with their decisions. I was desperate to know what I was supposed to do, and wondered why I decided to do this in the first place. I hate complications, thus I don't get myself involved in many activities; so what I had to deal with was too much for me. My anger, confusion, and concern mixed together and grew bigger and bigger, until it got to the point where they all burst, and I had to talk it out with one of the teachers. He advised me to be patient until everything settles down, and that I was taking the right path. Even though I didn't have faith in his words at that time, I believe what he had said while I cried out made me stronger mentally and spiritually.

Despite all the difficulties I had, I got used to the Saturday meetings, the punishments, and some fights with parents in between. Soon enough was the end of school, and the trip to Greece was going to begin in about two weeks. I tried not to complain about problems that I faced during the months of training, because I knew there were more people in more difficult situations. Although the processes were rigorous and hard to endure, I did not give up, and did all I could do to fulfill our team's goal.

The two-week journey ended in what felt like two days. There were some supposed dilemmas of six-hour time difference and typical European summer dry heat. Nevertheless, we did everything we had planned for VBS, English classes, and street mission work. According to our pastor who had been to numerous mission trips with the youth group, the fourteen of us were the greatest of all. We had stayed together as a team and did not cause any trouble. In spite of the age difference, which goes up to twenty years (with teachers), we bonded together and shared all our feelings and stories. It was such a memorable and worthy event in my life.

The world doesn't know you,
who are hidden among others.

But not me, I know.

You are different than any other.
Don't be afraid.

You can do it.

Run out to the world
so that others will know

Far far away.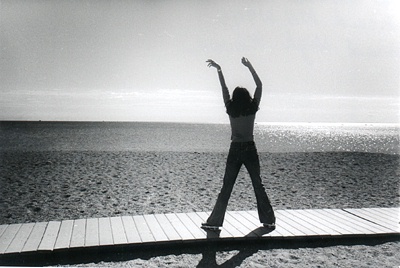 © Colleen F., Marblehead, MA