Grampa
November 27, 2011
My grandfather immigrated to the United States from the Philippines when he was 15, younger than I am now.
He had left his family, including 8 siblings, to come here. He and a friend had stowed away on a boat, arriving on US soil in San Francisco.
I can hardly fathom what he had to go through when he was that age. To leave his family and his home country? Now that's something that is hard to imagine.
The stories that I have of my Grampa Henry are limited, since he died when my dad was a young teenager.
My Grampa stayed in San Francisco for a few years, and then went to New Orleans, where he met my grandma. He had met my Grammy at a USO club there. I would ask what attracted her to him and I would get the answer: 'probably by his looks'. She was 15-year-old French-Cajun girl and he was a 17-year-old Filipino boy. They later got married. Before they would move to California, they would have 4 kids, my dad being the baby and born in California.
During World War 2, Grampa served in the US Navy, going places like Utah Beach at Normandy in France. Just like any war, it had to be tough leaving family like that.
I don't know much of what my Grampa's life was like before he came to the States, my dad doesn't know much either. My dad said that his dad never really talked about it much.
My dad has a memory of seeing his dad talk on the phone, speaking Tagalog. My Grampa spoke very broken English, and if his parents ever learned English, it wasn't much. My Grampa came to the United States speaking very little, if any, English. Can you imagine coming to a new country speaking not a word of your new language?
One of the things my Grampa was famous for was his cooking, especially his Adobo. At one time he and my Grammy owned a restaurant in Southern California. My dad has several pictures lying around the house of the days when they had the restaurant. There is a humorous one with my Grammy and Grampa smiling and my aunt with a turkey leg in her mouth. Even today, the recipes that he and Grammy had are being passed down.
Every time that my dads' family gets together, I learn something new. New stories would be shared and a few cousins teach us how to play a few card games, including ones like Filipino Poker.
Like I said, I don't know much about my Grampa. Though, I learn things bit by bit. It would take a lifetime to hear all the stories of my Grampa. Sometimes I would think about what my life would be like if Grampa was alive. Many different scenarios would go through my head.
Sometimes I feel sad that I didn't know my Grampa. I only have the stories that my family tells. I guess that's what I have to live by.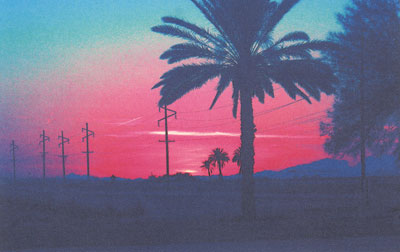 © Arenda R., Palo Verde, AZ