Something Borrowed
November 13, 2011
Today was the first day I met Darshini and Archana. Darshini is the naughtier of the two, the quieter one. Archana, the only other girl in the class, was an all star. The smart one, the class leader, the teacher's pet. They're both similar in many ways. They're happy kindergarten children. Darshini is two years younger than the rest of her class, and that's why her teachers intend on keeping her back. So she doesn't study with the other kids because she can't cope. She just comes to school because so loves it, and sits in the KG class because there isn't a class level below it.

Archana is the intelligent one, the one beyond her years. But her class isn't any standard to compete with for she is placed with differently abled children her age. She's beautiful, by any standards and she loves playing. She's the luckiest one in her class, but she wouldn't know it. Archana, like all others in her class suffers from some degree of deafness, that has left her hearing impaired.

Dark glasses hide the blind, or identify them to the world. Deaf children don't have a precursor to inform others of their plight. Maybe it's good, it's one less community that doesn't get shunned. Or maybe it's sad, because no one really recognizes the help that they need.

If an eye of a newborn baby is blindfolded until the age of say, six months, she loses the ability of sight in that eye. This is because during crucial stages of brain development, if optic neural connections were not formed, they never get formed. So you can have a perfectly good eye. It's just that you can never use it.

Children learn by watching. They learn to speak by listening. When their hearing is impaired, they lose their ability to speak, only because they never learnt how to.

So I was walking back from the school I'm volunteering at and I passed Manipal. For maybe five years now I've envisioned working 100-hour weeks. I know it sounds crazy but I usually work out the details before I know what the bigger picture is.

Just about the time I realised I wanted to be a doc, I wanted to work in Manipal. So I'm walking past when I see two doctors smoking and I wonder. How can doctors have so little respect for their own lives when there they are, caring for so many others. Also, I ate lunch at the Manipal canteen. I got a kick out of it, seeing that that's where I want to work and everything.

I learnt a lot at the school today. I picked up most of the sign language that deaf students use to communicate with one another. That by far was one of the smallest things I learnt. I learnt about graciousness, and respect. Those were bigger things I learnt about.

I just came back home. Before I sat down to write this, I watched a little bit of LOST and checked my email. Suddenly, I was back where I had been all my life. School, friends, studying. Comfort. Security. And there I was, the skeptic I had always been. This time it wasn't to others or people I thought didn't understand. It was all on me. When did parties become about Facebook photos? When dressing up was the best part about attending a party because no one really cares about you as long as you attend it?

Give me something real.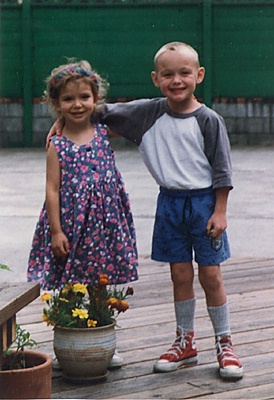 © Jacob H., Phoenix, AZ