The Power of Addiction
November 10, 2011
She struggles to break her addiction that has consumed so many years of her life. It took lots of will power and faith, but she slowly pulled herself out of the hole she dug herself into. The journey was long and never easy but she was hell bent to make her way out. I remember her telling me, "My mother told my father that I needed to see a therapist, but he believed it was an issue I should deal with on my own; so my mother paid for my therapy with her own money." She continued, "I probably shouldn't be alive right now, but I guess God just had another plan for me". As I heard my mother, my strength, say this, my heart crushed with the thought of life without her; the truth is I would not have a life without her.

Anorexia nervosa and bulimia nervosa were not issues that were discussed throughout society during the late 1970's. In fact, eating disorders were rarely ever mentioned nor understood. Fortunately, today there are more resources and dialogues regarding treatment of this disease. Our society has glamorized flawless women and men, all over the televisions, newspapers, and magazines; basically everywhere you look, resulting in a society that commonly accepts the ideas of eating disorders. My mother beat her addiction against eating disorders and never imagined she would have to step foot on that road again, but this time in her mother's shoes.

My story beings nearing the end of my middle school career, I had noticed I had gained weight when my favorite pair of Rock & Republic jeans no longer wanted to button. I remember sitting down in my closet, upset, and telling myself this has to end; I need to get back in shape. The chipotle runs sometimes twice a day could no longer happen. I decided I would go on a diet, and that I did, pretty simple. Well it soon became an obsession; I was addicted to counting my calories and working out. I got back into my jeans and I was happy, until I looked in the mirror a couple of months later and decided loosing another 5 pounds wouldn't hurt anybody. The start of my high school career triggered the increase in my eating disorder.

I envisioned high school as a sort of fairy tale. My friend problems would quickly disappear and I would make hundreds of new friends, I was wrong. On the positive side, I was so very fortunate when it came to my classes and teachers. I finally loved going to school it was exciting and I quickly felt at home within my classes. It was great, I ran for student council and won, becoming the Freshman Class President. Well when that bell rang at 2:40 my excitement would disappear; the once inviting social scene I was on top of became the "dreadful social scene".
I spent my summers traveling all over the country diving, while my friends spent their summer at home becoming very different people. Their interests seemed to change overnight and the once innocent fun turned into the party scene, downing one shot of vodka after the next. Going into high school I had mixed feelings about "partying" and soon enough my opinions were being tested. I found myself the only sober one at many parties and at first I loved it; it taught me to really respect holding to a decision. Although that changed; everyone was tired of me being the "good girl" and they began pressuring me more and more. I didn't like it at all.

Unfortunately I made a bad judgment call and gave into the pressure, something everyone does at one point or another. I really regretted it the second it happened but and no one was going to let me forget it. "Did you hear Ellie did this…" and "your class president did that…" By the time it got back to me it had been blowed out of proportion 100%, and wasn't even close to being the real story, but of course no one wants to believe the person that actually did it. Well my "friends" put me on "probation" from the "Fine Nine"; a group I didn't know existed until I was being kicked out. Their reason was that they didn't want my reputation. My reputation? They would rather believe the exaggerated stories over mine because it made me look worse, terrific; I call that real friendship. Especially when these girls saw exactly what had happened, yet still choose to go along with the fake story. Looking back I see that they really knew the truth, and knew how minimal it was, but acting as if I did something I did not would make them feel better about themselves because they were the ones making the horrible mistakes on a regular basis.

I quickly realized just how shallow this group of girls I had been sucked into was, and when I realized this I felt friendless. Now I know, looking back, I had so many great friends around me, but I had been blinded by this "group". That was only a small glimpse into the social scene and the pressure that accompanies it; so when you add a serious competitive sport and the stress of making straight A's, hoping for an acceptance letter to Stanford in just a few years, it's all very stressful. To vent this stress I turned to food and exercising. It is like turning to the devil for help, something I had no idea of at the time. He sits on your shoulder day and night, following you absolutely everywhere. For me my eating disorder took a slow route; in the beginning its presence showed rarely, then it increased to occasionally, which then turned into more often and then every day.

My parent's attention began to increase as my decision-making skills and level of dedication decreased. Before I knew it there was no hiding from it anymore. I had to and still have to pace myself to walk up all five flights of stairs at school and watch how quickly I stand up from my desk, as a precaution so I won't black out. I wasn't ready to change my habits but my parents fortunately stepped in early enough. I see a therapist every week and a dietician. My weight loss from a mere 138 lbs. to 113lbs didn't faze me, but everyone was starting to notice. I manage to keep it covered up from my friends and indirect family.

I am fighting this eating disorder with all my heart. Although this is still an issue in the forefront of my life I am learning the true value of this wonderful life God has blessed me with. There's no easy way to win this battle but I have found the will power to fight it. I am slowly taking control of my life again; it is a process of baby steps.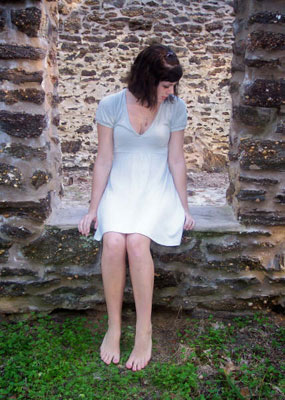 © Katie S., Vineland, NJ