Photographic Memory
November 13, 2011
I can't fight the urge any longer. I rip open my drawer, open the small, flat box and reach in for the wrinkled, dusty photo that has tormented me for years. I stare intently, hoping that I may finally relive that moment. I see my deceased aunt, my best friend of four years with her arms wrapped around me. My eyes have never looked brighter, my smile has never been wider and I close my eyes, because I just can't stare any longer. They say her dark, long curly hair would frame her face just perfectly. They say her almond shaped, hazel eyes were the epitome of beauty. They tell me to look in the mirror, and I will see her. I may never understand the stories I've heard, because it's as if I've never lived them. But here, right now, I'm gazing right at the proof.

I sit down at my desk in the corner of my room and lay the photograph flat on the dark wood surface. I try my best to flatten it out, but even that won't fix the years of damage this photo has taken. As I take another long look, I'm reminded of all the stories I've heard about this day. It was her bridal shower, shortly before the wedding that never happened. Just like every future bride, she was very detailed about exactly how she wanted the décor of the venue to be. The pure white fabric draping over the table behind her, and the beautiful, red rose centerpiece lead me to believe she got her way.

They say the weather that day was horrendous. It was a windy, humid day with thunderstorms that came and went throughout the evening. I can tell by our frizzy, over-voluminous hair that we had personally taken a beating from this weather. Behind me, and to the left, there is a relatively large open window. I can see a tree draped in front of the opening in a very awkward position, however there is a very apparent glow in the area around the window. This photo must have been taken in one of the very brief moments of sunshine the day had given.

One last detail in this photo has always made me wonder. It's raised a lot of questions that I've been almost afraid to ask. There is a young, handsome man in this photo, standing on the other side of my aunt. One arm is around my aunt, while she has her arms wrapped around me. For some reason, I've never asked his name. I don't remember anything about her fiancé, and for all I know, this might just be a friend of hers. But, something tells me otherwise. He has that look in his eye, the same look she has, and the way he's holding on to her lets me know that he is her fiancé.

As I raise my eyes to look at the clock, I take a deep breath and realize it's time to put the picture away. I open my drawer and once again grab the small box where this photograph has spent a great deal of its time. Although I've carefully examined this picture many times, today I've learned something I've never realized before. I don't remember my aunt's personality; I don't remember her voice, or the way the she would tell her jokes. I also can't recall exactly what we did in the precious moments we spent together, but I do remember how these moments made me feel. Sarah's memory is in my heart; emotions are never forgotten.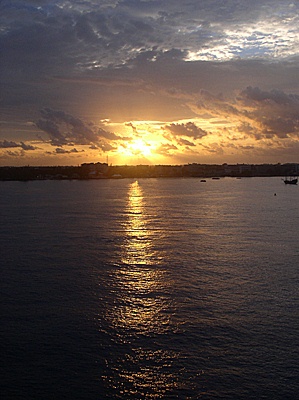 © Rebecca Y., Los Angeles, CA