Nature Journal
November 3, 2011
As I walk out of the school doors, I am embraced by the tranquility of nature. The indistinct chatter of classes in progress slowly fades away and is immediately replaced by the calming sounds of nature. Every pore in my body absorbs the natural noises: crickets chirping, birds whistling, and other animals chattering in their own distinct language. The different tempos and pitches of bugs, birds, and other animals chirping create a wonderful symphony of sounds. I am truly captivated by this natural orchestra, but occasionally the buzz of a fly will pass right by my ear, snapping out of my trance, and bringing me back to reality.
Everything is perfectly still. There is not one knot of wind, and every leaf on every tree and every blade of grass is completely motionless. On one hand, the stillness of the expanse makes me feel enclosed and restrained, like the air is compressing around me, but on the other hand the stillness allows me to reach and absorb every aspect of nature. Although there is no breeze, there is a slight coolness in the air, which makes the experience even more pleasant. It feels like everything is in its prime at this temperature, and everything can thrive.
The brightness of nature is really what captures me. Juxtaposed to the dull grey sky, nature itself is able to shine. The vividness of the changing leaves reminds me of the undiscovered beauty of nature. One person might think that a dirty lake with mud all around it is ugly, but that lake is home to many plants and animals. The organisms that live there recognize the beauty of it because they need it to survive. Leaves are always part of nature, but when they are changing colors, they are in their purely natural state.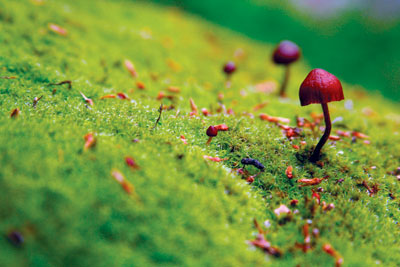 © Lyndsey B., Lake Isabella, CA