365 Days
MAG
October 29, 2011
What were you doing a year ago? You sat in the second row of the clarinet section, listlessly staring ahead, probably wondering when the period would end. I watched you, only a couple of feet away. But the distance between us stretched for miles. What are you thinking? I used to wonder. Look at me! I only dared to hope. An entire year has passed, and here we are, separated by real distance. You're happy where you are, and me, I'm all right. I manage.

What were your dreams a year ago? You had ninth and tenth period free and spent your time with friends. I was stuck in the research room, staring into the depths of a microscope. Were you happy then? For months I was so near but never attempted more; I regret it always. I think that maybe if we had had more time together we'd be somewhere different now. But I'm tired of what-ifs. I'm tired of wondering, because now I know. You weren't available a year ago. You're still, in a sense, not available now. Yet I keep staring. I watched and observed you a year ago and I'm still doing it. Some things never change; I didn't change. Or perhaps I did but I can't see it because retrospect hasn't kicked in yet.

A whole year of memories: good, bad, terrifyingly real. A year of experiences just waiting to be revisited five years from now. I look back and watch her fall in love with you. I see her walk along a road that could have been better. Half a year of waiting, three months of happiness, the rest, pain. Was it worth it? Was the year amazingly beautiful? Yes. Could things have been different if I had changed what I did? Yes. Could it have been better? No. Nothing is better than knowing that there is potential to love. Nothing is greater than waking up in the morning to someone's face in my mind. Nothing compares to the soaring feeling of a first kiss. I would change nothing.

A whole year of growing up – I'm finally an adult. I experienced the magical moment of being kissed in the rain. I explored the thrill of a movie date. The fluttering butterflies that zipped and zoomed through my stomach as you held my hand for the first time are imprinted in my mind. The cuddling in the park, cold as it was, romantic as can be, is forever engraved in my heart. I looked at us in the reflection of the building. You were handsome, tall, and illuminated by the sun, and I stood next to you, fingers intertwined and gloriously moved by the image in front of my eyes: beauty.

Three hundred and sixty-five days, that's how long it's been. Or maybe a bit more since I first saw you in class. A lot has changed; you're no longer innocent and I, I'm no longer cynical. You changed me, more than I like. You gave me what I was looking for: redemption. To this day, I love you, more than words can express. I'm thankful to have met you – so even though I can't remember the day that I first laid eyes on you, and though we're not together, happy one year.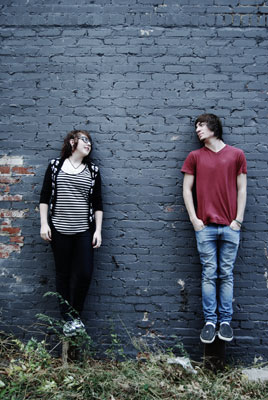 © Kebree A., Bartlesville, OK