The Feeling of Fall
October 28, 2011
When you walk outside and feel the cool, crisp air blowing through your hair, you know it's that time of year. Your mind starts to think of cold weather, changing leaves, haunted houses, fall break and especially Halloween. Out of all of those, my personal favorite is haunted houses. Last year I went to Waverly Hills Sanatorium, this was a tuberculosis hospital in 1910. I could hardly breathe just standing outside and looking at the old haunted hospital. From the broken windows to the orbs appearing in all the pictures I was taking, I regretted going more and more. As I stood there with Kayla, Raegan, and my dad by my side, I trembled. As we waited in line, I could hear people asking questions to each other. Questions like, "Is it really haunted?" They would quickly reply and say, "Yes, I have seen ghosts on the property before and I've never been more scared in my life." After hearing different stories and experiences of other tourists, I thought I would never make it out alive.

We finally made it to the front of the line. When we got to the door, I read the sign above that stated…"We are not responsible for any injuries, lost items or death". I wondered why they put death on there. Is Waverly Hills dangerous, am I risking my life going inside? There was no turning back now, my Dad had already bought the tickets, and we were the next group to go. As they opened the doors my heart raced. Luckily, we had a muscular guy in our group, who offered to go first. When you walk into Waverly, there are three statues that stare at you as you walk in. Holding onto Kayla, I slowly walked into the main doors to find people dressed up as Zombies, clowns and sick tuberculosis hospital patients. We walked slowly trying to avoid the sickly patients. I closed my eyes for most of the way through, holding on to the back of Kayla's hoodie, but I still heard bloody screams and moans.

All I remember is the relief I felt when I came out of the haunted house. I loved the experience from Waverly, even though it was scary. When I walked out towards the truck. I felt the wind blow through my hair, knowing it was that time of year, fall.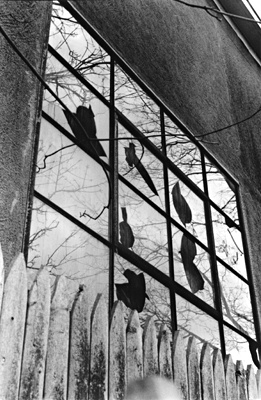 © Halsey S., Marblehead, MA