OLdham County Race
October 28, 2011
On Saturday July 23rd my family and I went to the Oldham county fairgrounds to go race. It was my dad, mom, grandpa, brother, sister, me and my two friends Dustin, and Darrin. We got there around 7:00a.m. In July I was dating Darrin. He and I were running around in the hot weather having a great time. We rode some rides together until the races started.

It was now 5:00p.m. My dad and I had to go down to the both to get signed up for the race because he and I were both racing. My dad signed up for 'open B & D' and I signed up for '400 cc or less.' Well, after my dad and I signed up, we went and walked around on the track to see what we were going to have to jump and where all the turns were. We were just mainly getting a feel for the track like we do at every race. After we got done looking at the track, we walked back up to our trailer to go get something to eat and drink.

It was now 7:00p.m. My dad and I were up in our trailer getting our gear on because practice was about to start. We got our stuff on, turned our four-wheelers on, and drove down to the track. When we got to the track, it was my dad's turn to go out on the track and practice. I sat there and watched him do a couple laps. Then it was my turn to go out. I was getting ready and then I was off on the track.

Practice was over and I thought it went great. My dad and I went and got some food then sat down for a while to cool off. It was now 8:30p.m. And my dad and I had to get ready again to go to the track for our race. Well, I went down to the track and I was up on the line, I was kind of nervous at this point. My dad was standing by me telling me I was going to do great. Then it was time. I had to start my four-wheeler and get ready. My dad walked off and I was there alone, scared to death. Then I took off and I was in 2nd place. Well, I was on my 2nd lap and I was going around a turn and the guy in front of me slammed on his breaks, which made me run into him and that made some guy run into the back of me. I got pancaked. I remember hitting the back of the guy's four-wheeler then I remember looking around and I was lying on the ground on my back. The medics came over and put me on a bed and I got put into the ambulance and I got taken to the hospital in Louisville.
I was in the hospital for almost 3 hours. The doctors told me nothing was broke so I was free to go. All I had to do now was wait for my mom, dad, brother, and Darrin. They got there and I asked my mom what happened because I didn't remember anything. She told me that I got pancaked, flew about 6 ft. in the air, flip, landed on my back, and then the four-wheeler landed on my chest. I thought to myself "that's probably why I had such a bad pain in my chest when I was on the ground." Then I stood up, thanked the doctors for everything and I walked out with Darrin and my parents. I told my parents that would be the last time I raced.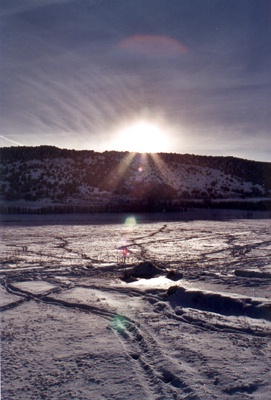 © Brandon T., Manila, UT