How to wake up in the morning
October 27, 2011
Just so all of you know, I'm not exactly a morning person. Let's put it this way, if morning was a physical being, I would punch it in the stomach. Twice. Now that that has been said, I've learned over the years there are two ways that I can wake up in an instant. The first being boot camp. You try telling a big black woman that you want five more minutes to get yourself mentally ready for the day. The second is waking up and realizing that you have overslept something important. For me this was soccer practice or class. Yeah soccer practice. At 5 in the morning. Of course I set my clock about 10 min early so I can wake up slowly, but I accidentally fell back asleep once. Did I ever mention that I really hated soccer practice?
This morning I found out there is third way to wake me up. I was spending the night at my friend Kimi's when I woke up at 6 to a loud beeping noise. At first I was confused. I feel kinda stupid for not knowing that noise right off the bat, but I had woken up a second ago, I can't be blamed for taking a moment. Kimi hissed at me "get up, that's the fire alarm." That got me up.
It was the same as the school fire alarm, the one that goes off at least twice a week at my old high school thanks to the class of 2012. Really, its not cool you guys. Anyway, I don't have a working alarm at my house, so the fact that Kimi does was a crazy concept to me. This does not mean you should come to my house and set it ablaze, that would be rude. So anyway we (4 teens, one of which was pregnant, and a five year old) started searching the house for anything that might be on fire or smoking or in any way set off the alarm. Kimi rushing about completely naked which only seemed to disturb me. Mostly because we had been in the same bed and I just realized she was in the nude the whole time. Really, talk about disturbing.
We find nothing on fire, which instantly makes me tired, and honestly, a bit disappointed. Just so you know, I have a bit of a chronic hero disorder or something, and saving my friend and her family would fit on the list of things I want to do to prove myself. I had already made an escape plan which included a second story window, a bunch of pillows, and a paint canvas. So yeah, nothing on fire, and I went straight back to sleep.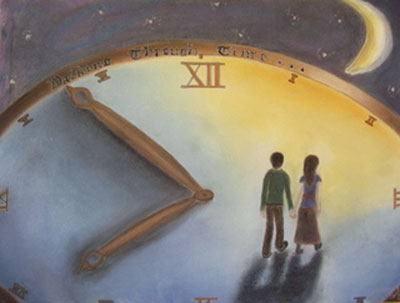 © Carollynn G., Hawthorne, NY