Donuts, Disappointment, and Fire Departments
October 10, 2011
One memory that I have from my childhood is the time that my brother and I went with our dad on a fire call. Our father, being a volunteer firefighter, sometimes took my brother and I with him to some of the fires, because the two of us wanted to watch from the truck. I remember as if it were yesterday…

My younger brother, Kyle, and I, ten and twelve years old respectively, were once again in the middle of the action. Confined in the safety of our father's truck, we sat atop a hill in the countryside, an enormous wild land fire raging around us. Fire, men in fancy coats with fire hoses and walkie-talkies, and huge, bright red fire engines surrounding us; it was a kid's dream-come-true. But not for my brother and I, this was just another day.

We literally grew up at the fire department. Our house being only a few miles down the road, we spent as much time as we possibly could there; playing hide-and-seek with the other firefighters' children, climbing on fire trucks as if they were our personal jungle-gyms, and bugging the firemen were our favorite things to do during the summer. Every Saturday, when most other kids were still in bed, Kyle and I were wide awake, stuffing our starving faces with donuts and drawing on the whiteboard while our father was honing his fire-fighting skills. But this particular Saturday was different, much different.

We were expecting the usual: donuts, fire truck drawing, maybe even some hide-and-seek, but not this time. We were en route to Avoca Volunteer Fire Department, where our dad volunteers, Kyle and I calling our "dibs" on certain donuts, when, to our great disappointment, our dad's pager sounded the alarm, informing us that there was to be no donut eating in our near future. Our dad did a 180 and went to the scene of the fire.

Picture this: two small boys inside of a truck, sitting on top of a wooded hill, set ablaze by the carelessness of a smoker. Sounds pretty bad, huh? In all reality, we were perfectly safe. In fact, we were bored. The fire wasn't what we were expecting, and we eventually began trying to find ways to entertain ourselves. We played videogames, listened to the radio, and took the truck for a joy-ride.

Yes, I was only twelve, yet I actually drove my father's 2002 Chevrolet Blazer. It was parked really close to the fire, and I actually moved it to the other side of the road because it made my little brother and I feel safer. Being tall for my age, it was very easy for me to put the truck in gear and pull to the other side of the road.

My childhood was full of very memorable events, especially having grown up in the chaotic atmosphere of a fire department. Some of these events including a green fire swirling like a tornado on a trailer house, but my first time driving by myself, legal or not, is probably the most memorable moments of my life.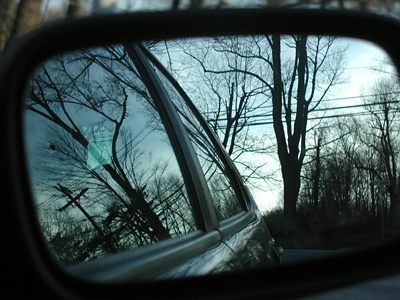 © Kristen Ruby, Waccabuc, NY