The Clown's Guide to Makeup
October 2, 2011
Some people don't believe in covering up what's real. A man by the name of Lou Reed stated, "I don't believe in using makeup to make things look smoother." When I was twelve years old, though, all I could think about was makeup. I imagined life as a teenager to be chock full of parties, cute boys, and an endless supply of makeup. Fast forward a couple years and I'm still waiting for the party invites…and the cute boys…and go figure, the endless supply of makeup. It turns out that eyeliner actually costs money. Who would've known?

Unfortunately, my first experience with makeup was not a pleasant one. I longed to be one of the girls whose eyelashes looked like gigantic black feathers and whose face was a flawless blend of foundation and blush. The beauty aisles at the supermarket were like my heaven. I would gaze lovingly at the rainbow of colors that decorated the shelves. Raspberry, Toffee Sheen, Watermelon...they made so many different lipstick shades! And don't get me started on the eye shadow: Cactus, Purple Sunset, Rose, Electric Yellow!

The day my grandmother brought home my very own Clinique makeup bag (stocked full of makeup) was probably one of the greatest days of my preteen life. The bag was decorated with bright red dots that seemed to dance and swirl when I stared at them for too long. I was ecstatic and started imagining myself as one of the girls I had idolized for so long. I would finally have impossibly long eye lashes that defied gravity. I would finally have rosy cheeks and perfectly lined lips. The next morning before school, I greedily tore into the bag and began giving myself the makeover of a lifetime.

First came the eye shadow. Wielding my brush like a sword, I painted my eyelids "Shocking Pink". The powder clung to my eyelashes and lightly dusted my cheekbones. I furiously applied the bright color underneath my eyebrows and above the tiny, almost imperceptible creases before my eyelids. When I was finished with the eye shadow, my eye sockets were decorated with a violent shade of pink. I smiled victoriously. I looked hot! Next came the mascara. I swept the wand across my eyelashes, trying to imitate the "feathery" look I had seen on so many other girls. Unfortunately, the wand wasn't built to create the feathery look. Instead, my eyelashes looked like tar: clumpy and black. I frowned at my reflection in the mirror. How could this be fixed?

Lipstick! Blush!

I whipped out the blush, which went by the name of "Smoldering Plum", and smeared it across my cheeks. I completely ignored the fact that the circles I had created were uneven and looked like some sort of red, blotchy skin disease. Instead, I dove right into the lipstick application. I really should have known that a lipstick called "Shy" wouldn't match my skin tone. It was a deep purple; the kind of purple reserved for Halloween costumes. Shy? Yeah right. More like "Notice me! Notice me! I'm a weirdo with purple lipstick!" Despite all this, I tentatively puckered my lips and put on the lipstick.

I solemnly gazed at my reflection in the mirror. Starting back at me was, to put it bluntly, a clown. I immediately started crying. I was never a dainty crier. Whenever I cried, I would get snot all over the front of my shirt. Except this time, instead of just snot, mascara joined the mix. Little black rivers streamed down my face and eventually, red blush mixed with the mascara to form an unfortunate color that reminded me of puke. That only made me cry harder.

I was late for school that morning. It took an hour for my mom to wash off all the makeup caked to my skin and my grandmother got in trouble for giving me the tools necessary to ruin my face. Since then, I've mainly admired the makeup aisles from afar.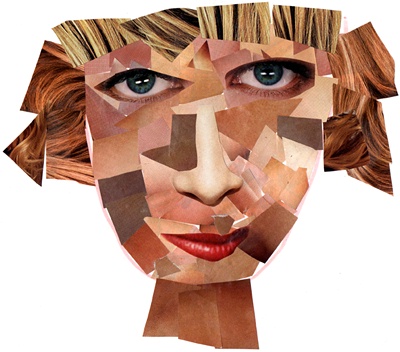 © Maghan D., Athens, AL