Open Your Eyes!
September 30, 2011
By the middle of eighth grade, I had established a routine: get up, go to school, ride the bus to the town library where I would do homework, find a book, then wait until someone decided to pick me up. There was another girl that had the same routine, and we settled in comfortably together, recommending books to one another but never quite reaching the 'exchange email/phone number' stage. One day, we were sitting side by side on the comfy plush chairs in the teen section when she turned to me and said,
"Hey Jackie, can you help me with this math problem?" In normal fashion, I attempted to help her, but found myself stuck as well. She looked at me with a strange expression and asked,
"Aren't you supposed to be good at math?"
What? Why? Then, I felt it. I felt her eyes slide up to meet mine, so much more slit-like than her own. I could almost hear the words flashing through her mind when she did a double-take, thinking 'all Chinese people are good at math, shouldn't Jackie be able to help me with my homework...?' At first, when I realized that day at the library that I was supposed to fall into a certain category, I thought it was kind of, well, cool. I mean, as I thought harder about it, I had a ready-made reputation of being good at math, science, drawing, everything. After a while, though, it started to wear on me. I had to work hard in math class to keep up with the other kids. I stayed up late with the science homework, while other kids of my race were being put into Advanced Algebra and seemed to breeze through the homework.
I started to notice what they said to me, about me, the whispers following me through the hallway long after the people who uttered them were gone.


"Yes!! I got a better grade than Jackie!"


"Wait, you take Mandarin? Jackie, I thought you were fluent!"


"Jackie will make the cover for the D.C. study guide. I bet she's an amazing artist."


How did this come to be? How could I ever be perceived as that? I was put into a racial categorizing box so restricting, it squeezed the being out of who I was and who I still am. I had never 'let it slip' that I spoke Mandarin well, and my sketches were… awful to say the least.
I recently went to China for the first time in my life. To many of my classmates and even friends, it was a surprise to them that I had not been adopted, didn't have any relatives in China, and didn't live there for any portion of my life. In my classmates' eyes, I was intensely Chinese, as Asian as you could get. I thought so too until I stepped onto the streets of modern-day, smoggy Shanghai.
They were wrong.
In a place with so many people, I did not fit into any category except for 'blatantly American'. The way I dressed, the way I clumsily spoke Chinese with a thick American accent, how I spoke English to my brothers whenever I could, all of that set me apart from the 'real' Chinese people. It was all turned around, because suddenly I was swept aside as American instead of 'Asian' or 'Chinese'. It felt... good. My whole life I had been carelessly stereotyped as a smart, math loving Asian, and it was slowly being balanced out as I spent my weeks in China as an American.
I've learned to tolerate all the assumptions that come with my eyes, my teeth, my nose. But to be honest, it hurts when someone points out my squinty eyes in the school photo, my big teeth, or my flatter-than-normal nose. It's an annoyance when someone glances at my paper and says, "Yes!! I got a better grade than Jackie!" I'm not perfect, nor will I ever be.
Being Chinese, or any race for that matter, is not a choice. I try not to let it get to me; I move on despite the fact that I will never fit into the Jewish Student Union, cheerleading squad or basketball team. I understand that I have many more expectations to meet than usual due to who I am and what I am. I work a little harder, and try to please a little more in hope that one day I will make a name for myself and not always be perceived as someone I may not be.
In second grade, we read a book and watched a movie about a girl named Ruby Bridges. She desegregated a school all on her own when she was just six years old. I hope I will never be confronted with that kind of direct racial hatred and discrimination, but now I have realized that racism can manifest itself in other ways. Though my skin is as light as anyone's, I am still harmed by the grit of racial profiling and stereotyping. The racial stereotypes will never fade, just like I will always hold a strong dislike for math. I've learned to tolerate all the assumptions that come with my eyes, my nose, the color of my hair. I accept that I'm Chinese, and not only that, I'm American. People will constantly try to lump me in a group, but I will break free. I'm proud of what I am, American born Chinese.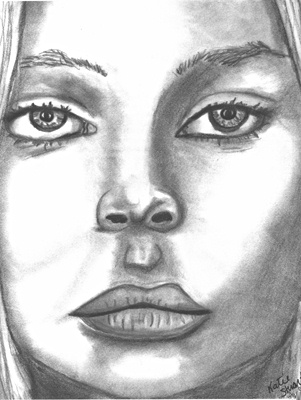 © Katie S., Naperville, CT