Surviving Hurricane Luna
September 27, 2011
Sexy. Is. Back...was sexy ever gone? I mean did I miss out on someone walking around with a sign, with big lettering on it in bold saying "SEXY HAS BEEN EXTERMINATED!!" If your answer is no...then good, because I didn't think so. If it's yes I'd love to see your proof on that matter. 5th grade is when it began for me, personally: A girl named...lets call her Amy was the blonde haired, blue eyed goddess of our class and I'd love to pronounce her a complete and utter annoyance but she was one of my good friends back then. She had short hair, big eyes and...a really short body. Not only were a lot of her features short but so were her clothes. I'm not talking a short dress or something...but shorts so high that her underwear was longer, shirts so low you couldn't see the shorts...defeating the purpose of wearing them. It wasn't a big deal then since I was really inflicted by all that. But 6th grade is when I started noticing that my faded jeans and Elmo shirt...were being laughed at. I changed not only my clothes but myself for others at that time for the satisfaction of not the boys...but the girls. I started hating my unruly brown mass of hair which by the way is impossible to comb out, shrinks when wet and there is not a thing about it that i liked at the time. But one day in the first semester of 6th grade, a girl from another campus came to our campus and stated my clothing "outdated and unfashionable" she declared that she would give me a "makeover". So from that day forward she would come to my school, cake on loads of makeup onto my face, straighten my hair, cut my shorts to the limit, cut my shirt so it was halfway up to my non-existant boobs and put on way to big earrings. This got worse, I tried impressing the girl, going against what my mom told me not to do. She said "don't wear makeup, stop cutting your clothes and those earrings have got to go."
But the girl had my hypnotized and I was also desperate to be liked and the girl was offering not only a path to popularity but a path to have someone for me to be. Because somewhere along the way I had lost myself and some of my friends too. She wasn't a friend which she clarified when she made the rude diss "Sorry, you just weren't invited to my party not because i didn't have invitations but...you just weren't invited. Glad you're cool with it though!" I became a replica of the girl, not liking her one bit but since everyone else did, I let her treat me like dirt. In 7th grade, that was the end of it all for us. I was in her room the last semester and we were posing for the camera when I made the stupidest remark of my life "God, this camera makes me look ugly..."
Luna smirked and replied "Camera doesn't lie..."
You might have guessed it already but this Luna girl...she was the makeup wearing, short cutting girl I'd been following. That day I stopped talking to Luna because although I had been letting her throw punches at me for a while, she'd never said something so straight forward and mean and I was not about to let her start. I was very subtle about it, just avoiding her, when I saw her I'd wave and when she invited me over I'd politely...turn her down. Over that summer I finally did something for me. I went on a 2 week backpacking trip to Montana. I found myself again, I didn't play stupid, cut my clothes and found pictures of myself and was ashamed. I had followed Luna into her own tornado, I had held onto her because she appeared to be stable but was really just as unstable as I. It made her look stronger to have someone clinging to her. Someone like me. I came back this year with a new attitude, loving my curly hair, rocking my dark skin and wearing the most respectful clothes I could find. Even when I feel pressured now I just remember how terrible Luna treated me.
in a way Luna gave me a gift: the gift of showing me the way, the gift of showing me that I could lose myself and she toughened me out. She made me stronger, not so easy to sway. And I am so...so thankful for that. So thank you Luna, but I am done with you. She came, she passed, its over, I'm back.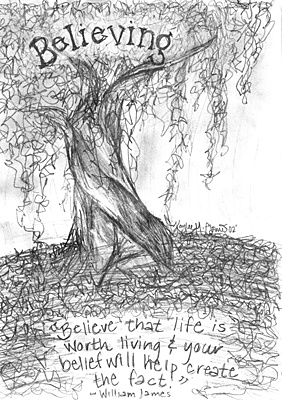 © Kaylee E., Coraopolis, PA