Dick the Donkey
September 16, 2011
In my grandmother's field, amongst the sheep, there is a donkey named Dick. Dick is there to protect the sheep from other animals, such as coyotes and cougars. He has been in the field for a few months, and has eaten more carrots than I have in my whole life.

With Dick being out with the sheep, we didn't think we would have to worry about them being attacked by anything as much as we did before. Grandma had lost about five sheep before we got Dick, and we thought that we wouldn't be losing so many sheep anymore. Well, we were wrong.

Last Friday, around 5:30 in the morning, Domino, Grandma's dog, starting going crazy and wouldn't stop barking. When Gram and Grandpa went out to check what she was barking at, they discovered that four sheep had been attacked and killed, and that Dick was missing. At about six, they called us and had Mom and Dad to go over to help try to find Dick. Rather than finding Dick, they found that one of the sheep were still alive, even though it had been attacked and was hurt real bad. Grandpa went and grabbed a gun and shot it, putting it out of its misery.

By 6:50, they still hadn't found the donkey, and it was time for me to go to the Oak Run Store to get on the bus for school. Thinking that Dick was running around Oak Run somewhere, I told my neighbors about it, and they said that they had not seen him. I wasn't all that concerned about it, so I just asked them to keep an eye out for him.

While I had been at school, Gram had found Dick; he was hiding behind some bushes in the field behind her house. Gram also had called the Tracker, who told her that it had been a cougar that had attacked her sheep, put up a trap, and said that he would come again later, around eight o'clock, because he was sure that the cougar would be back before midnight that night.

About seven thirty, the Tracker was back and had his truck parked in Gram's field, where the sheep had been attacked. All of the animals had been put away, and my brother and I were going to our rooms for the night, we heard a loud gun shot. It was about nine o'clock at the time, and at about nine thirty, mom and dad went over to grandma's house to see what had happened.

The cougar had been stalking the Tracker's truck. When the cougar came around the front of the truck, the Tracker aimed, and shot the cougar, killing it. When he was sure it was dead, the Tracker put the cougar on the tail gate of his truck.

The cougar was a boy, as long as his truck's tail gate, and about 150 pounds. The Tracker estimated that the cougar was about eight or nine years old. The paw of the cougar was about as big as my dad's hand.

Now we have one less cougar to worry about attacking the animals, and Dick has one less cougar to run and hide from. Hopefully, this will be out first and last encounter with a cougar. But you never know what could happen.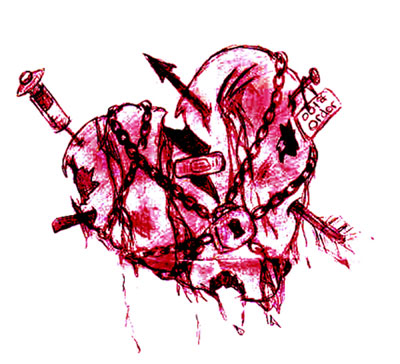 © Asia B., Hudson, MA