The Last Straw
MAG
September 13, 2011
"Don't touch me! Get away from me! Do not touch me!" I tried to speak firmly to show him that I was strong and that he couldn't hurt me. But the sinister look in his eyes said he wasn't going to show mercy – not this time.

I prayed to God then, asking Him to give me strength. That was the last thought I had before his hand pulled back and hit my right cheek. Searing pain shot through my head, my body slamming back against the seat. The man serving the slap was easily 6Ɗ" and 235 pounds. His height required him to put the passenger seat as far back as the car allowed. Now he unbuckled his seat belt and leaned over the seat. The back seat had never seemed so small.

He was wearing a black T-shirt with a bulldog bearing its teeth. He had cut off the sleeves, and I could smell the sweat pouring off him. His pants were ripped and bore grease stains. His baseball cap had the Vikings logo on it; his safety sunglasses were usually on the brim of the cap but had almost fallen off.

He was still leering at me with a look of pure evil, as though he couldn't wait to hit me again. Then he started yelling, telling me I was worthless and didn't deserve anyone's love. That I should die alone, isolated from society. I looked at him with disgust. No wonder I was so screwed up. I had been told this a lot in my life.

I pulled myself up, the seat belt painfully digging into my side. My head hurt the worst though. My heart felt like it would jump out of my mouth at any second. I could feel it beating against my rib cage, vibrating the bones.

I was praying to God, not knowing if He would hear me, thinking, What have I done to deserve this? Why me? I have school soon, and I don't want to go with a big bruise on my face.

My mother, who was driving, was trying to pull over or find somewhere to park and get him out of the car. She was screaming, "What kind of man hits a 15-year-old girl?"

Trying to defend myself in the tiny back seat, I put my hands up to push him away, but he grabbed my wrists. My body reacted instinctively. With my index finger, middle finger, and ring finger, I scratched him from the corner of his eye to the edge of his mouth, taking a chunk out of his nose. I felt his skin under my fingernails and smelled the metallic scent of blood. Then I looked up just in time to see his closed fist.

I felt the pain even before the impact. I started to feel nauseous and couldn't breathe. The punch had connected below my left ear, at the back of my jaw. This time not only did I slam back in the car, I saw dots when I closed my eyes. I started crying.

Now, I never cry. Ever. Not for emotional or physical pain. When I was little and would cry, my father would tell me to "Suck it up, move on. Crying is for the weak." I tried to tell myself the same thing, but my conscience whispered, "Cry. You need to cry. Everything changed this summer; you have every reason to cry."

So I cried. By now we had pulled up to a red light. My mom slammed the brakes and yelled, "Get the hell out of my car, Michael!"

"Fine!" He got out and slammed the door so hard the car shook. The window was down, so I heard him yell "F**k you" at me. People in the cars around us were staring – some with sympathy, some looking away quickly, unsure what to do. Humiliation made me curl into a ball, my body trembling.

The light turned green and our car speed away, with a broken girl inside.


•
•
•


At the police station, I recalled the incident, not leaving out any detail. The officer took pictures of the bruises on my face. I told him how my teeth still ached.

"We'll open an investigation, but are you sure you want to do this? This is a serious accusation. He could go to jail for years."

"Yes, sir, I would like you to investigate this crime," I replied.

And that is how I filed a police report on my father.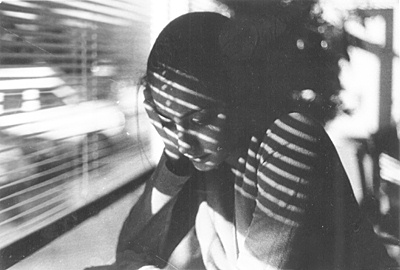 © John O., New City, NY