Old Man in a Diner
September 11, 2011
As I walk into a diner, I quickly scan the room for anyone I know. After doing so, I look around at the groups of strangers that vary in appearance as much as they vary in size. Families, friends, business partners, and clans of many other relationships all busily converse amongst each other as they stuff their faces. Everyone seems like they are in a hurry. Some of them may very well be.

There was one person that caught my eye as I made my way to be seated. Someone who was not in a hurry. In a moment's glance, I immediately sympathized with the pain of this person. An elderly, defenseless man taking his precious, limited time to consume his meal; alone.

I felt like every time he looked up from his cup of warm tea, he wishes she was there. His life partner whom he loved so dearly before he lost her. After a painful separation brought on by World War II, the two soul mates would have reunited, so grateful to be able to hold each other in their arms once more. Together they raised two kids on the mother's nurturing skills and his blue-collar career. They spent a great life together. He must have held her hand to the very last moment of her final exhale.

I am a freshman in college; my life is busy, exciting, and fast-paced. This man was once as busy, if not busier than I am. He has so many memories, ones that he only keeps to himself. In his slowly beating heart, in his lesser functioning mind.

I have complaints, I have desires, I have wishes. I want to be on winter break, I want to get a 4.0 average. I wish my girlfriend would stop flirting with other guys and not talk to her ex-boyfriend all the time. All of my plights combined are nothing compared to his. He has one wish. He wishes death could take him to end his bitter loneliness; and join his wife in heaven so the two can be together for the rest of eternity.

He has almost nobody. He has children whose spouses don't like to have him over for Thanksgiving, Christmas, Easter, or for other holidays because of his cold personality and critical phrases. He is alone in this world. He is alone in a world that is so much more advanced than he was ever used to. He faces it; alone.

I assumed this entire story was true as I saw him weakly sip from his cup of tea at his corner booth. Although may aspects of my story are probably wrong, I am sure there are so many elderly men today who are experiencing the same suffering. We all grow old. It is an aspect out of human control. There is no cure for age; there is no cure for death. We are at the mercy of time and circumstance. I hate it.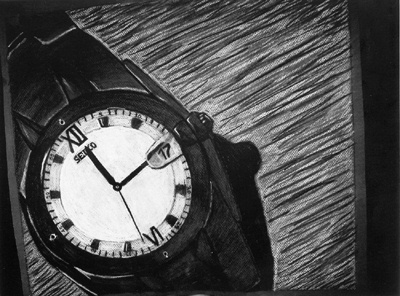 © Rachel U., Danbury, CT