Goodbye
September 5, 2011
My mind has been racing with thoughts of dread and utter heartbreak since I opened my eyes this morning. I lay there for a long moment, gripping my quilt to my chin and just imagining myself never getting up. What would happen? Perhaps the world would stop just for me.

I met Mason six months back, when I was just a girl. Now, I'm something more than just a girl, something more distinct than a fifteen year old fool. I hope that Mason is proud of that. Without him, I fear I would be laughing at the stupidity of my sophomore classmates like the pretty little fool I was. Thank God I'm something more than that now.

Mason was something different than I was accustomed to, and I wanted to taste him the first moment I looked him in those blue eyes of his. He was older and wiser than me, and he had a laugh that made me want to catch it in a jar and keep it, because it had a joy to it that I had never encountered before.

I didn't realize how empty my heart was until Mason filled it. He filled it with songs, and long meaningful truths, and love. He continually filled it for six months, and they were six months that went by as fast as I could blink. One moment, he was kissing me for the first time, his warm hand holding my cheek, and the next he is picking me up in his oversized truck for the very last time.

My brunette hair sticks to the frame of my face, and random tendrils of hair protrude from my ponytail as I climb into the passenger seat next to Mason, an ice cream cone in tow.

"How was practice?" Mason asks, hastily biting the top off of my cone.

I smirk and grab the cone away, and then lick it profusely.

"It was good, and coach brought us ice cream to celebrate our win last night."

"That's my girl!" Mason smiles and clasps my hand in his, the other hand gripping the steering wheel.

We spend our last night together like every other night we've spent together, and nothing is different. We talk about how our days were, and what we did, and how we feel. Mason holds me on the couch we've lay on every night since we've been together, and he tells me he loves me. I tell him I love him back.

And now, we're sitting in his silver truck at a dead end with the lights turned off. Cars speed by us, and it's like we're watching shooting stars. Mason tells me nobody can see us, and I feel like time stopped just for us. Shouldn't people who are meant to be together have the chance to stop time, so that they can be together and nothing, not even a 2,000 mile move, can tear them apart?

The time in Mason's car advances to 10:43. Time is still existent, however much we wanted it to stop.

And then, the memories spill off our lips, and we talk forever. We talk about our fights, and our firsts for everything, and the time we met each other's parents. We talk about how our relationship was originally a secret, and how shy I was in the beginning, and how many changes we both underwent. We talk about the time we realized we were in love, and the way it feels to kiss each other, and how the odds were against us, but somehow we triumphed. We talk until we're both crying - crying tears so beautiful that I want to catch them in the palm of my hand.

And now, we're standing in my driveway like we have been every single night since February. The tears are now a pounding mess, and with every droplet, I feel my whole world shake. Does Mason feel it too?

Can't we just be like Romeo and Juliet?

I keep telling Mason I love him, in hopes he'll stay here, or in hopes that God will just stop time for us. But, nothing happens.

And now, I'm standing on my porch, and Mason is leaning out the side of his car. I'm watching him watch me, and he's whispering that this can't possibly be goodbye.

And, it can't, can it? Goodbyes like this don't happen to real people.

His car is pulling away now, and then it shoots past, just like a shooting star.

Thanks, Mason, for finding me in the throng of pretty little fools that day in February.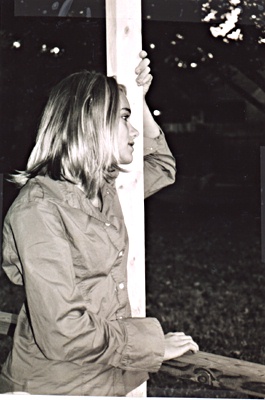 © Tiffany A., Southaven, MS