Do I HAVE to go shopping?
September 2, 2011
Dear Journal,
You know how department stores sound huge when you're inside them? Like you can almost hear how much empty space there is?
Yeah, that's how Old Navy's sounding right about now.
So long story short, I came here because there was nothing else to do and I needed new tank tops. So here I am. I have a confession to make, I got a skirt as well. It was too soft, I couldn't resist. And a pair of flip flops......But I actually needed those, the ones I'm wearing now are all chewed up, thanks to the dogs. They're also my sister's so there's actually two reasons.
I find it quite comical that I'm trying to come up with a reason or excuse to be shopping when other women do it for fun. Almost like a hobby. They literally shop till they drop. As for me, the minute I walk into one of these humongous, echoey, mass production warehouses, the feeling of wanting to drop dead hits instantaneously. Like a body saving reflex that's screaming, "No! Don't go there! Don't buy those things!"
My sister isn't like me though, she could shop till she drops or so it appears. Sure it makes her tired, but she comes away from it with a sense of enjoyment and a feeling of accomplishment. Whereas I walk away from it feeling as if I spent way too much money on things I didn't need.
Even while I shop, all I see in the piles and piles of clothing are outfits I wouldn't wear and things I would have to get used to if I bought. Nothing usually leaps out at me and screams, "Buy me! I'm really important!"
It all just seems to sit there lifelessly and mumble, "I'm a worthless piece of crap that's gonna rip real fast. Buy me." Not a very convincing argument. In fact, it's like asking me to shoot myself in the foot. Why would I do that when there is clearly the option not to?
Maybe that's why I don't like shopping in clothes stores so much, because you can never trust the value of the items on the shelves. It's all just a big lie that they're getting away with right under our noses.

But I still think I'll buy that skirt........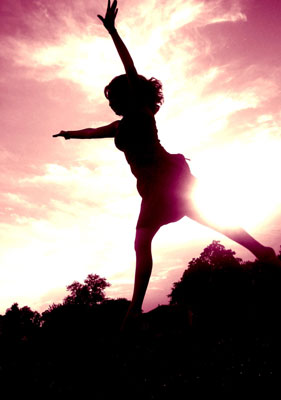 © Martha V., Morton Grove, IL