A Teen's Ode to Urban Living
August 29, 2011
It's downtown on a Friday night at 12:30 A.M. Sixth Street is illuminated with the muted orange glow of street lamps along with the neon flicker of light from surrounding bars. I can hear the drum beat from live music venues down the street. The ringing of faraway sirens bounces off surrounding buildings. While scantily clad women scurry into the new nightclub, which happens to share the driveway with my apartment building, residents in their pajamas head downstairs to walk their dogs, casting disapproving glances at the scene.

I am 16 years old, living downtown – an example of the city's recent urban dwelling initiative. Looking up at my home, I crane my neck to see the top, an iridescent succession of changing color that brightens the city skyline. The multistory building towers above me like a monument, demanding a salute to city living by anyone who stands in its titanic shadow.

Entering the building well past my curfew, I am stalled by a carefree couple giggling and fiddling with their keys, just coming in from a night on the town. A group of bachelors sashay past with a "single man's swagger," gearing up for the second round of debauchery that inevitably awaits. The smell of their cologne overwhelms my nostrils like a deafening canon.

As I head to the elevator, the security guard manning the front desk welcomes me back home. Ambient pop music in the lobby serves as a reminder to residents that this is a hip and cool place. It brings a smile to my face as I stand waiting. While the sensory overload may be too much for some people, to me, this is home.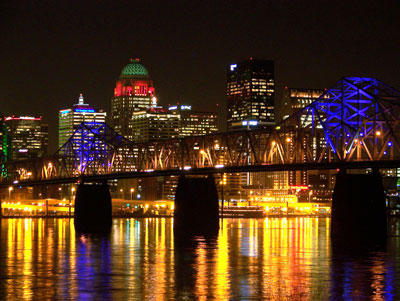 © Katie L., Shepherdsville, KY