In the Beginning
August 29, 2011
The light on the horizon is eerie. Some people like sunsets and sunrises, but I don't. They mark the end, and they mark the beginning, and I hate those things. I like the middle where I can do whatever I want, and have no need to worry about making things meaningful. I think the most meaningful times are when you aren't expecting them, because moments without a script are just life. But when I watch the sunrise, I still feel happy, because I am to exhausted to care about the meaning of it. I sit on the field with whisky on my breath and a cigarette in my hand. I don't like the taste of smoking, but I love the feel of it. I don't care that I've been up all night either. Our fun started at the sunset, and ended at the sunrise. The sun peeks over the trees, filling the sky with pastel light. The sun rays wash over our pale skin, giving it a strange glow. "Hey." I said. "Let's go and get some coffee." We pool our money together and get coffee from Dunkin Donuts. The girls get strange flavors, like french vanilla, or blueberry, even decaf. The boys always get coffee, but one adds a pound of sugar, the other adds a gallon of milk. I like it black, if I'm feeling adventurous, hazlenut. That day, I wasn't feeling adventurous. I got black coffee. Once we artificially wake ourselves up, we realize we are hungry. But we have no money left, and no place to go. So we sit in the field again, watching the morning. Children run by on their way to the park, and the traffic becomes thicker. It's another brisk saturday, early autumn, and dry as a bone. I feel my head get heavy, and soon I'm gone to the world. When I dream, I dream in color. Reds and blues rush past my eyes, and the sun never comes or leaves. The next thing I know, he shakes me awake and I realize I've been sleeping in his lap. "Sorry." I say, followed by a yawn. He doesn't say anything and instead points to the sky. The sun is up above us, shining brightly. It was noon. He told me the girls went home to go to bed. His brother was still there, he was lying out in the field, we go to sit with him. "What are you looking at?" I ask him.

The park. He told me. Not in a creepy way, I was just realizing how these kids' growth has been stunted. We used to climb the swings and toss each other off the merry-go-round. All these kids are allowed to do is run around and play patty cake. He seemed really upset about this, but I never figured out why. We hopped on the bus and went to Kendall square. We love exploring, but the people who don't know how to explore are always ruining our fun. That's why we love each other's company. We all have the same skills. It takes a few minutes to scout out a building, but we climb it and get comfortable on the roof in a few seconds. The cops hate it when we have any fun, so we need to stay hidden. He has some whisky left from last night, so we sip that while looking out at the city. Eager to catch the last rays of summer, we stretch out on the tar roof top and fall asleep. This time I don't dream, I already got my dreaming over with for the day. My dreams aren't normal dreams, they are reviews of the day, but by then I finally understand them. A cellphone ringing wakes us up and my cousin invites us to castle island. So we get up off our hiding spot and jump to the ground. We ran into some suburb kids along the way, but we ignored them for now. As long as they kept to themselves, so would we. Another bus ride later, we found ourselves in South Boston. We greet my cousin and sit on the beach with our toes in the sand. The water is always warmer in September then June, so we don't mind splashing around for a bit. New Englanders are very accustomed to freezing water anyways. Late afternoon comes and goes, and we say good bye to my cousin. We catch a bus back to Kendall square, to waste time. This time, the suburb kids say something. I don't remember exactly what they said, but it was something to the extent of inbred irish skin heads. We don't say anything back, there is no need to. The group is about five people, they must've thought they outnumbered us, but they were wrong. They were the punk type, with dark, ripped clothing and outrageous hair. They had more piercings then us, and they may have had more money, but they had less brains. We turn around and start beating them. It doesn't take to long. And then I say something, I don't really remember what I said, but it was something to the extent of go home. By now, it's early evening, so we catch a ride home. We find ourselves in a field, yet again, to watch the sunset. It's pretty, but I hate it all the same. The purple and red blend seamlessly into the golden sun, and then the sun is gone, and the veil of night is over us. We sit in silence. "Wanna go and hop the trains?" I ask the boys.

No, I'm tired. I'm gonna go home and go to bed. So they go, and leave me to look at the inky sky. I'm exhausted, but I doubt I could sleep.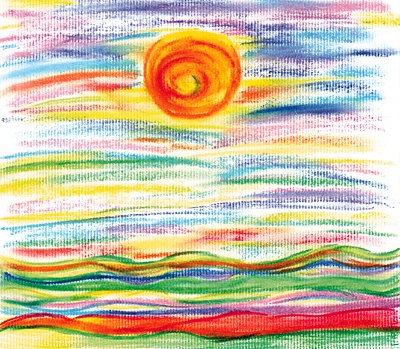 © Jennifer W., Saint Albans, WV