Regrets
August 24, 2011
My mom's dad died today. And I feel nothing. It's as if a complete stranger had died, and you feel vaguely sorry – but that's as far as it extends. And then you feel worse because you think you should feel. This was my grandpa after all, blood kin, part of my heritage.

But he was grandpa by blood and name only, not by the heart or relationship. This has never failed to puzzle me. Blessed by a family who is so close and so open about expressing love, I'm astounded by the blatant truth – there is a part of my family that I barely know, that I have only met once. Once!

I dimly remember a tall, well-built man, with sparse white hair and a good tan. At eight years old, I remember thinking it so weird that my uncle introduced this man to my young cousin as "Grandpa." At eight years old, one thinks in a twisted fashion.

"So, this guy is my cousin's grandpa – so he must be my grandpa, too…but I already have two grandpas. Which means…"

I stopped there, boggled. I knew enough to know that a girl can't have three grandpas, but I was naively unaware of the word "divorce."

Divorce is such an ugly word, yet so completely inadequate to express it's true meaning. If you look it up, it won't tell you about three, little, brown-eyed kids, abandoned by their daddy. It won't tell you about the young mother, now left heart-broken, by the one she thought would never leave her alone. It won't tell you about the ache, the tears, the loneliness. You won't find any of that in the meaning of "divorce."

My grandma later happily re-married, but there is still a part of her that I will never be able to ask about – when I ask her to please "tell me a story about when you were little" or "when my mom was little," I never ask about that time. What would be the point? It would only rehash what can never be changed.

Yet, I can't help but feel – cheated. Yes, I have a one doting grandpa, who thinks the world of me, and crows about his "Awesome Allison." But, my other grandpa – well, it's not the same. Uncomfortable with showing or giving affection, he is still kind in his crusty, blunt way…but he's not blood. That doesn't diminish his status as grandpa in my mind. It simply accents the fact that I have another grandpa - blood – whom I have met once, don't know, and now will never have the chance to know.

And it was by his choice. I think that hurts the most. At any time, he could have showed interest, asked to see us, learned about our lives.

But he didn't. And by not doing, we – and he – have missed out.

He missed out on hearing whoppers of stories, stammered by wide-eyed children. He missed out on the family dinners, hearty laughter around the table. He missed the lazy summer evenings, spent doing nothing – just because we could. He missed out on having a small child clasp their pudgy arms around his neck and whisper in his ear, "I love you, Grandpa."

And we missed out on knowing a part of our family – our Grandpa, known simply to us as the one who sent us the $10.00 checks for each birthday.

Don't get me wrong – I am so blessed. Family, friends, including the best Friend of all, all combine to make my life so rich and full.

But still…there are regrets. And now there always will be.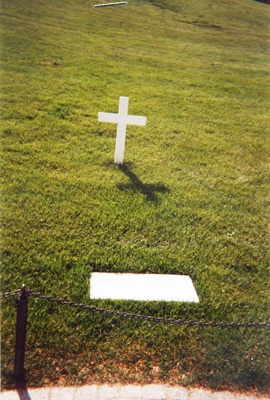 © Whitney T., Glenpool, OK