A Very Intriguing Sandbox
August 2, 2011
Whenever I told myself that I would sit down and finish writing my This I Believe essay, the same thing always happened. Half an hour later, I would still be staring at a blank Word document. As the deadline rapidly approached, I grew more and more worried. Sure, I possessed many lofty ideals, some of which probably made no sense, but I had no clue how I came to believe in them. Life has acted like a kindly grandmother to me, slowly and gently spoon-feeding me its bitter lessons and giving me months, and sometimes years, to digest what she had patiently guided down my throat. I've never learned anything because of a fateful car crash, or while lying in bed in the throes of a deadly disease, or because a enigmatic, nameless stranger saved my life. Instead, I've learned everything gradually. There have never been particular moments when, with a sudden flash of divine inspiration, a life-changing principle has been branded into my mind.

The more days I spent staring at blank documents, the more I began to wish that my past had been more interesting. I found myself deeply yearning for some excitement, hoping for some adventure, wanting to have the memory of some dead mentor who was killed saving me and whose death I would always feel tremendous guilt over. Or at least the memory of a dead pet who I had an incredible affinity for. But no; my life was more boring than a sandbox without sand because my life was...happy.

Today, as I sat in the car waiting for my orthodontics appointment, I realized that the essay was due at the end of that week. Panicking, I yanked out a pencil and crisp sheet of lined paper from my binder. I'm going to write the worst mock This I Believe essay EVER, I decided. If the process doesn't give me some ideas, at least it'll provide me with some entertainment before my appointment. And so, for the next five minutes, I scribbled like mad about how I had nothing to write about and about how boring my life was. Just to give the mock essay a proper conclusion, I ended it with, "And all of a sudden, I realized what I believe: happiness is a divine gift. Why should I want it to disappear just for the ease of doing homework?" Finished, I threw my pencil down vehemently. I glanced over what I had written, prepared to laugh my head off at the pseudo-witty preposterity that was surely dribbled through my sentences like sour maple syrup. That's when I realized that my conclusion was true. What was the point of having a dark past? Happiness itself was an adventure not to be resented, and I've always believed that with all my heart. I read what I had written one more time and grinned broadly, realizing that I had just completed my This I Believe essay.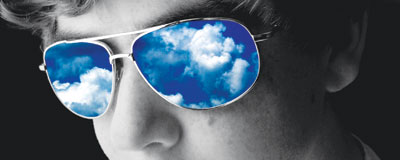 © Joseph B., Mesquite, TX