The Difference
MAG
June 29, 2011
I coughed. Opening the lid to the box had released a cloud of dust that tickled my nose. Adjusting my gloves I reached inside, wanting to get this over with. I don't enjoy cleaning, and sorting old boxes that were never unpacked after our last move is the worst.

A glint of green and gold caught my eye, and I pulled at the mysterious object. After dislodging it from the mountain of junk on top, I found that it was an old photo. Years of dust and grime sat on the glass, teasing me with a limited view of the picture. The subject was a woman, beautiful, confident, and radiating life. Her dirty blond hair was curled to frame her face and floated down her back. She wore an elegant, emerald green off-the-shoulder dress. Her eyes were optimistic and she was obviously very glamorous, probably famous.

I carefully sprayed a paper towel with cleaner and wiped the glass. The woman came into better focus, and the more I wiped, the clearer it became that this woman – this beautiful, confident young woman – was my mom. I took another look, sure I was wrong; this couldn't be my mom.

I tore through the house and snatched up a photo of her from last summer. Holding the two side by side, I could almost mistake them for different people. In the old picture, my mom was the star, with her beautiful face and glamorous clothes taking center stage. In the newer one, she posed with my brother, and her love for him and family was the most obvious thing. In the old one, my mom wore frivolous earrings and an intricate necklace; in the recent one she wore simple pearl earrings and no necklace.

The two pictures were so different that I could barely wrap my head around it. When had my mom stopped being a beauty queen and become the woman she is today? Then, for just a moment, I understood. I wasn't looking at a picture when my mom was young and pretty and a picture when she was, well, a mom. I was looking at the difference between a princess and a queen.

In the first one, my mom is young and still imagining what she might do with her life. Curiosity and fire are seen in her elegant dress and flirty smile. In the second, my mom knows life. She knows what it means to worry and be afraid. She also knows what it means to love three children forever. She has known a thousand laughs and rainbows, with the rainy days that come with them. In between the two pictures my mom lived.

It was then that I knew, without a doubt, that both pictures were my mom, and that she was happy in both and beautiful in both. However, in the first she was merely pretty because she did not yet know the meaning of beautiful.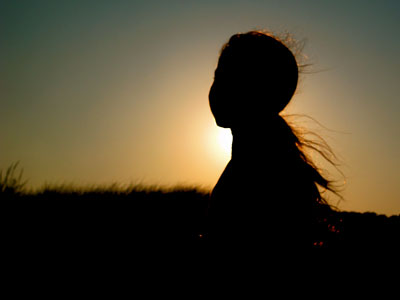 © Barrie T., Scarsdale, NY