My First Experience with Gangs
June 18, 2011
I find that most of the time, people talking about gangs, know nothing about the topic. You may think that it is all about a "color" and that is what its all about, but you can't be more wrong. Most didn't join to be "cool" or because they like blue. We joined because they were lost. Gangs leaders provided the only father figure most of these kids ever had. We fought to survive, for the feeling of approval from others. I compare it to a child striving to do good in baseball, or get good grades, so they can please their parents. I came from the streets of Albuquerque, New Mexico. Thinking of hot-air balloons? Now go a few miles south of that pretty sight, and you'll find a war zone. Robberies, killings, brawls. My first time hearing about gangs, was in 3rd grade. Some of my more troublesome peers were talking about how his uncle pitted him against "Some southsider" and how they fought, giving a show for the older gangsters. I was fascinated with the idea of fighting for sport. I pictured myself like rocky, bloody and bruised but victorious! A year ago I had moved from New Jersey, my parents moved so quick that they were unaware of all the bloodshed in the area they bought the house in, they were only looking at price. I don't regret their quick choice at all though, growing up there made me tough, living there gave me knowledge that you can't learn in any university.
Lets come back my first encounter with gangs. I thought that gangs were all about fighting for fun. I was a bit luckier then most kids there, and never had to live without knowing my father. So I wasn't deprived of a father figure in my life. I did however deal with minor poverty (my Dad supported his 4 person family on $20,000) but that was nothing compared to most, so I rarely complained of it.
My friend told all about the different gangs, and their colors, and where more of a certain gang resided. He then asked me.
"Do you like fighting?"
I told him that I never been in a fight before.
"Then tell me who you want to fight"
We looked out at the dirty sand playground. Old and rusted monkey bars, and a slide with the ladder missing was all that we had in terms of playground equipment. I soon spotted Raul. Raul was talking with his friends, bossing them around, acting like king. I was fascinated with taking someone in power down in their place.
"I wanna fight him"
"Allah vay!" My friend laughed.
I asked him why, but he just shrugged it off.
"Let me go talk to him"
We got up and started walking toward Raul and his friends who were leaning against the slide remains.
"My friend wants to fight you"
"Allah! This white-boy?"
"Yeah"
I just stayed quiet, my heart was pounding, I was excited, I was going to be Rocky.
"I'm ready, what about you fool?"
I nodded my head, and we walked to an open area of the sand.
Everyone surrounded around us, and so we started fighting.
I put up a boxer stance, and so did Raul. Raul started with wide swinging hooks, while I threw hard jabs through the gap he left while swinging.
"Ow!" He fell down.
Following the respect code I saw in Rocky I didn't keep punching when he hit the ground. But Raul took advantage of this and sprawled at my legs, bringing me down too.
I was scared now, I never even knew this kind of fighting existed,I being the brother of a boxer.
I hit his head with the bottom of my fist, wiggling and trying to get free.
Eventually I broke loose, but not after taking several hits to my face.
Now were standing up, now I was gonna make him pay.
Raul started his wide hooks again, and I knocked him straight on the ground again, but this time I kept on, going down with him. I pounded his face till my fists were searing with pain, and everyone broke us up anyway. Raul, with a bloody nose and hands, got up and shook my hand.
"That was a good fight man, your a good fighter"
I just smiled and replied "Thanks, you are too"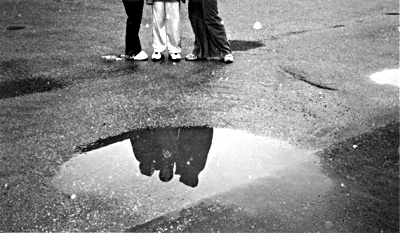 © Gary C., Pequannock, NJ