The Brave One
June 13, 2011
The innocence of a child can vanish in seconds. My Mom is my hero, for her courage, bravery and strength throughout my entire childhood life. There were times in my youth where she wasn't able to protect me from the harsh real world, and had no choice but to reveal the truth and be there by my side. Growing up with her I have learned so much, especially how important it is to stay strong and be able to look forward beyond the pain. I have become a very independent and responsible person because of what I've been through and I believe I can keep my head up high no matter what situation is thrown at me. My early childhood held no trauma, it was filled with the simplicity of laughter and joy, just as any child's life should be. Then one day, all of that, was suddenly corrupted.

I was eight years old at the time, and my only responsibility was to protect my younger sister in JK, nothing more. I remember the day like any other normal school day in early fall. Now that I look back at it, I think that's exactly how my Mom intended it to be. Everyday after school my sister and I would take the school bus together and arrive at our babysitter Lori's house, who also happened to be a close, personal friend of my family. Today was different though, my sister and I never got on the bus. We got picked up by Lori straight from school, which was a very rare occasion. I knew something was up. I saw it in Lori's face as soon as we hopped in her car. The expression on her face looked as if she just witnessed a horrible accident. She didn't say much. At the time I didn't know what to think. I remember telling myself not worry and that everything was going to be fine, because that's usually how it ended up being.

As soon as my sister and I walked through the front door at Lori's, I felt a dead silence in the air. I definitely knew something was up, the expression on everyone's faces kept proving it. Lori's three kids, greeted us at the doorway, but even they weren't their usual, energetic selves. Their eyes had a puffy and glazed appearance. Each of them gave me and my sister a long comforting hug. My sister asked what was wrong but the question went unanswered. Lori finished putting away the few groceries she had laid out on the counter and finally said that it was time to take us home to see our mom. I couldn't be more anxious to go home, sit on my big comfy green coach and watch TV with my family.

When we pulled into our driveway in our small dead end sub-division, there were more cars than usual parked on the street, clustered close to my house. We all got out of Lori's car and walked up to the front door, where I noticed a number of shoes lying about. We slowly took off our shoes and jackets, and I could hear conversations arising from the kitchen upstairs. I walked up the stairs with my sister and Lori right behind me, straight into the kitchen, where there was a huge gathering of close family and friends. As soon as my sister and I entered the room, there was that dead silence all over again, and everyone's similar, sad, depressing faces, looking away from us. I began to feel uncomfortable as if I were in a room full of strangers and to make things worse, I couldn't spot my mom in the crowd of people.
I greeted everyone with a cheesy grin hoping it would rub off onto some other people. Finally, Lori said it was time to go upstairs and see our Mom, I knew she would tell me what was going on. We found her lying on her bed waiting patiently and she had that expression on her face, except with tears running down. My sister and I looked at eachother confused, and both immediately jumped on her bed to try and comfort her. My Mom tried to hold back her tears and all of a sudden became very serious. She told us to sit up because what she was going to say next was of utter importance. At this point I began to be frightened and my heart started racing, I didn't know what was going to happen next. She paused, holding each of our hands not knowing how to find the right words. I wasn't sure I wanted to hear this, I felt like huddling under a blanket and covering my ears. After a long deep breathe, she told us that something serious had happened with my Dad. My sister asked if he was alright and I asked what happened. She replied, while trying to hold back tears, that my Dad was now in a better place and he is no longer with us, he was in heaven now. He died in the hospital while we were at school.

As soon as those words came out of her mouth, I knew exactly what she was trying to say. I wish I hadn't been so anxious to know. I was suddenly filled with heart ache, as tears began pouring down my face. I couldn't breathe properly. The thought of him first teaching me how to ride a bike, rushed through my head. All three of us sat on my Mom's bed weeping and sobbing. No longer were we a family of four but of three, all we had left of him was our memories. From this moment on, this eight year old girl grew up very fast, and I was no longer silly and immature.

Today, I'm thankful that I got to spend just eight years with him, I know he's still with me, he's my guardian angel. My Mom always tells me that I'm exactly like him, the way we laugh, our smile, our personality and our similar facial features. He was small, tough, brave, aggressive and smart just like me. Knowing that I'm just like him makes me more confident and accepting of who I am. The experience of death will forever change me. My mom's strength inspires me to be better, and will always be carried with me. It may be the hardest human experience to recover from, but I will always keep fighting on. I may not understand why the world works as it does, but I do know one thing for sure, I'm a Daddy's girl at heart and some things never change.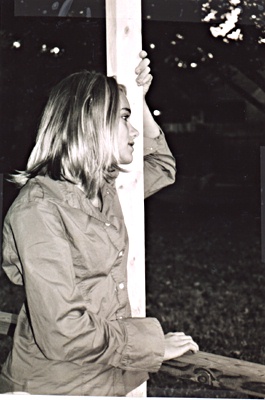 © Tiffany A., Southaven, MS