An Escapade
June 12, 2011
Letting a deep sigh, I hurried out of the examination hall followed by Surya, Haidy and Anju. Four of us sparing no time for an appraisal of the question-paper made quick steps out of the campus.We got into the first autorickshaw that caught our sight at the convent junction. After a week long exam fever, we were now escaping to the merriment of an expedition.
'Padma',I said to the auto driver with much anticipation.The auto sped through the down-town of cochin.This time we were off to watch the film 'Harry potter and the deathly hallows,part 1', running at Padma theatre. I was anxious, Surya gave me a mocking smile, Haidy and Anju seemed forlorn or rather insipid.I could'nt blame them for spoiling a great dayout with their dull expressions.I could read their minds, 'Will we be able to make it,at least this time?', was the question revolving in our heads. Because, this is not the first time we were going to watch a movie but this would be the first time we will be watching a movie we had opt for.

It was a few months back, we planned to go out for a saturday morning show to watch the movie 'Eclipse'. We first years were excited to go for an outing for the very first time in our campus life. But that morning, I put down the newspaper with a heartbreak, the movie has been changed! Later, we were almost hopeful on watching 'Step-up 3' but to our utter dismay we end up watching 'Golmaal 3'! Haidy, Surya and Anju were enjoying all the commotion and comedy because they could grasp 'Hindi' easily.I was finding myself in trouble unable to follow.Three of them were laughing wildly meanwhile I sat chin in hand, doubtful whether to laugh or not.'Hey Mahi didnt you often jeer at us for watching Hindi serials? You know,this is the benefit of watching Hindi serials',Anju whispered into my ears. Eventhough I felt outrage at that remark,how I wished I too had watched some Hindi serials!
Earlier this week, we set off to Sridar to watch HP7 only after making sure that the film is still running there.We were thrilled until the moment we reached the theatre. There was an unusual crowd outside. Thus standing there bewildered at the commotion someone called at us saying,"Hey, the show has been cancelled because the owner's mother passed away this morning" !

Now, we were on our way to our final destination-padma theatre.By now we were quite familiar with almost all major theatres in the city having visited them many times before but hardly watching any movie.Besides, most of our pocket money were spent on auto alone in taking these rounds to various theatres.Sometimes we even had to go without snacks paying every penny for the auto.

It was about a quarter to twelve, when we arrived at padma theatre.It was not much crowded. Me and Surya were standing in the queue meanwhile Haidy and Anju began 'exploring' boys. For us who live inside the four walls of covent these are a few golden opportunity to take a glimpse of young gentlemen! Standing in the queue, Surya went on asking whether the film is actually HP7.I got irritated but confused by her continous doubt, I enquired about the film to a gang of girls standing ahead us.They assured that its the same.They seemed to stare at us surprised by our gang who were eager to get tickets but didnt know which film was running! We quickly got through the tickets without much trouble and took a breath of relief only when settled in the seats atop of the balcony.

Soon the film began.we were enjoying ourselves with witty comments and fun inbetween rather than the film. Haidy, sitting in a relaxed posture seemed banal and busy messaging. I couldnt read Anju's face in that darkness. It seemed to me that Surya and I were those actually carried away by the movie. Surya was curious about 'scenes'.Well for her, scenes are what she calls those romantic scenes. Everytime Harry and Hermione or Ron or Hermione come closer, her eyes glitstened and she watched without even blinking. Unfortunately, there were not much scenes to satisfy her."Afterall all these guys are useless when it comes to utilizing such great opportunities", surya groused.

Meanwhile, I was ploying means to frighten Haidy or Anju in the darkness.Anju was too far for me to reach out so Haidy was my target.The movie had many exciting action scenes .I was waiting for one such scene to take chance.Soon there was a scene which showed the fangs of Nagini, without hesistating for another moment I snapped at Haidys arms.She suddenely let out a squeal to our roar of laughter. We were thus luxuriating time at the cinema.It was almost an hour later when all at once the electricity was gone.We were silent, looking into one anothers face in distress.'Something goes wrong with us no matter where we are', was our sudden thought.Luckily, the current was back but it continued to interrupt us twice later.

One after the other, trouble followed us like a shadow.This time in the form of Anju's neighbour.Anju didnt get the permission of her parents to go for the movie nor did Haidy.They came along with us after much coaxing.There was this middle-aged woman along with her husband and child, who happened to be Anju's close neighbour.
Somehow, Anju managed to escape her, hiding in the darkness of the theatre.Thus sitting relaxed after a narrow escape, came another alarming call for Haidy.It was her father.How could she attend the call inside the theatre when she had earlier informed her father that she was attending class?So we waited till the break, squeezed out through the door and found a quiet space in the restroom to attend her father's call.'Why didnt you attend the phone?',this time her mother spoke anxiously over the phone.'Oh..ma,how can I while busy listening to the class?',Haidy gave a classic reply.Three of us giggled unable to control laughter.

However in the end we could watch the movie entirely.A better way of celebrating the end of our first semester. What is campus life without a little mischief?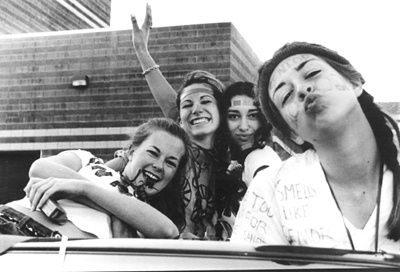 © Sara B., Marblehead, MA