Flight 375
MAG
May 31, 2011
Seat 17D is the color of faded blue jeans. I'm stuck right behind the exit row. I'm staring at some pointless TV show on an old boxlike cube that hangs from the ceiling of the Boeing 757. Over and over I read the signs. "Fasten Seat Belt While Seated." "Life Vest Under Seat." Both are glued to my mashed-potato-colored tray table.

And then the flight attendant says to prepare for landing. I am finally about to enter the unknown. I'm scared. My life and all of the memories I have from Pittsburgh flash before my eyes. Each seems as far away as Jupiter. I want to reach out and pull them back into my orbit, but my hands and mind don't have the force.

The plane descends. What if the people in this new place don't like me? How will the school compare? Will we find the perfect house? The flight attendants make more announcements. "Electronics off." "Seat backs up and tray tables in their full, upright, and locked positions." I have already complied with these requests, so these distractions are not working. My nerves are kicking in even more.

I want to wake up and find that this is all a dream. I want to be home in my bed, in my house, in my hometown. A flight attendant collects newspapers. The bald man next to me reads his book as if nothing is wrong.

And then the cabin lights go off. It's dark except for the illuminated seat belt and no smoking signs and the reading light. While we wait to touch ground, I realize that the radio has been tuned to channel 8 the entire flight. Eight is my lucky number. Maybe this is a sign that all will be okay.

BUMPITY-BUMP BUMPITY-BUMP

Unexpectedly, we land, hitting the earth through a cloud of fog. And the reality sinks in that this is my new home.

No, no, no! This is too soon; I am not prepared. When the flight attendant welcomes us to Sacramento, it just doesn't feel right, as though I have just been diagnosed with a disease, not knowing what the future will bring. It might be bad, in fact I'm convinced it will be bad. This change is happening and there is nothing I can do to stop it. It's a meteor heading right for me, and I can't change its direction. It's going to squash me into tiny pieces and tear me up inside and out – until I choose to accept my future.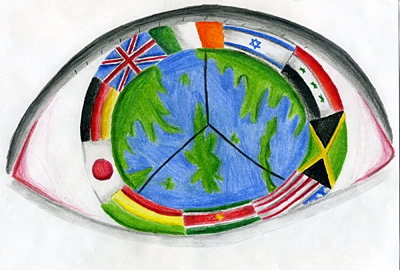 © Kelly L., Brooklyn , NY