Minerva
May 27, 2011
Minerva is a grade above me. A freshman in college. James is a year above her. He's a dropout…she has a life ahead of her. She is his heroine. She is his addiction. A savior and a drug. He threatens his life, and she comes to his rescue. She puts her hand to his heart as he takes a knife to himself. All he wants is a kiss to take the cold stainless steel off the back of her hand. Just a kiss.

Minerva tells me she won't go there again. Not without me. She lied. But she was sure he wouldn't hurt her…even though her phone vibrates daily of the things he wants to do to her. Bad things.

I'm sitting in my car, deciding whether to go to the door. She's inside…with him. It's been too long. I listen and there's a scream. I find myself on the other side of the door. Next I know, he's on the ground…face-down. She's in my arms. I can barely recognize the person in her familiar but torn clothes.

I'll try to protect her. But what if she lies to me again? What if she goes back there? How can I protect her if she, too, has an addiction.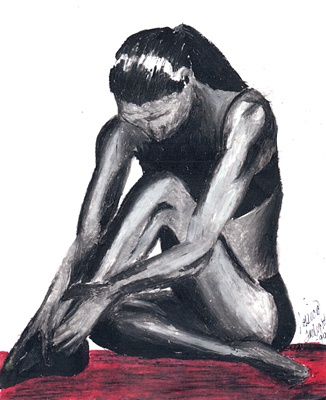 © Jessie Y., Ahwahnee, CA