A Never Ending Battle- Finally Won
May 21, 2011
I must have been thirteen, just, when I first noticed my body changing. Curves in places I never though I would get, hair- in places I could never have imagined, spots, you name it, it happened. Do you know the thing i noticed most, out of everything that was changing? It was the curves, the way i had to get a size bigger clothes, i was by no means fat. Curvy, fuller, more womanly. Me, i though it was fat, disgusting, vial. I was forever being told it was 'puppy-fat' and that it would go away. That i was beautiful! Did i feel it? No, no i did not.

So yes, at that young age, i cut out certain foods- Crisps, chocolate, sometimes bread, even ice-cream and lolly pops in the hot weather, everything that a young child loves.

I started keeping a food diary, exact to the calorie, nothing left out, every little thing noted. Started a strick workout, skipping for hours on end, power-walking the long was to school, running up and down the stairs, star jumps, all sorts, just to push some of this fat!. It made me feel good, like something for my own, something just for me, and since i was 13 and mum done loads of the normal stuff like cleaning and bed-time routines, this was something i could keep charge of, handle myself. I muddled on through a few years, tears even. Mum wanted me to eat, i didn't want to, convinced there was nothing wrong, i was fine. To me, they were the ones with the problems, not me, i was turning into this beautiful swan... why couldn't they see that?!

Little did i know, i was getting too thin, and by the time i was 15 i was taking dieting pills daily, exceeding the recommended daily does of 3 and downing maybe 10 or more each time. I was constantly tired, and missed few G.C.S.E's, i was just too tired to move, having to summon all of my energy just to open my eyes and sit up in the morning.

The cloud of darkness gripped me in a powerful pull, helpless to get away, as though i was a small child again, too weak, to vulnerable to stop the pull of what was happening to me but at the same time amazng and over-joyed on the grip and hold this illness had over me. Like i was achieving something. In reality all i was achieving was malnutrition!

Eventually i was ready for help help, sick of being tired all of the time, not having a social life.

I still thought mum didn't really know what was going on, of course she did, but by now i was in my own bubble of endless exercise and under-eating and it was taking its toll, so told my Psychologist in private, in an attempt to keep my secret between the few people who even needed to know. She helped and soon i was eating more. I didn't like it, like i was getting really fat because i couldn't do up my size 4 jeans and and 6 just hung off me.

I thought i was ugly, i wanted to stay a child, small and innocent, people looking after me. I knew i had to throw my diary away... one step at a time.

After a long road of help, and thankfully no hospital appointments or force feeding, i survived, and for the first time in 4 years, i was happy. Truly happy. A happiness deep down, meaningful happiness and that meant more than any diet or exercise plan.

I am now a healthy 9st 5lb... and I'm happy with that. I don't have to wake up every morning, dreading having to pull my self out of bed, the worry of having to hide it everyday. At my lowest i was a small, scared 5st nothing 13 year old child, living in the body of a little frail old lady.

I am now a mature college student with a very healthy life style, an amazing partner, and i am a happy 19 year old. It was been hard, and yes there are days when i feel guilty for eating something full of fat... but you know what, you only live once, so live for today, have some guilty pleasures, and don't beat your self up.

I want to be a rold model for other young people suffering from eating disorders. Its not nice, its a lonley experience, where everyday you wake up with a huge weight on you shoulders. No person should put up with it, you don't have to, and there is people out there to help. They wont judge, and you can do it. Just be strong, hold your head up high and smile.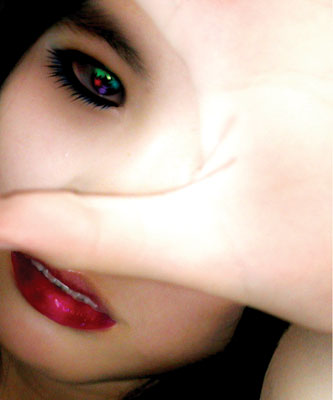 © Victoria W., Arcadia, CA