A True Friend <3
May 19, 2011
The One Girl I Can Trust With Anything, The One I Can Tell A Secret Too & Won't Blab Their Mouth, The One Who I Can Call A True Friend.

Sixth Grade, The Year I Met That Special Girl It Was In Computer Lit. Class & She Introduced Herself & We Started Talking From The Beginning. She Started Following Me & I Got Kind of Freaked Out, But I Came To Find Out It Was Just Because I Was A Nice Down To Earth & Cool Guy. So I Gave Her My Number & Yet Instead Of Getting Annoyed Of Her I Found Her To Be A Real Friend I Would Like To Keep In My Life! That Year I Had So Many Heartbreaks & She Was The First One There Asking "Are You Okay Kaleb?" I Loved Her For That & Find It As A Moment I Will Never Forget. When I Cried She Was There & Said Do You Want Me To Go Kick Her Butt? When I Got Annoyed Of Someone She Was There Telling Them Off & When I Called Her She Would Always Answer Even If She Knew It Was Going To Be Stupid.

Yet In Seventh Grade We Started Drifting Apart Like Ice Berge's. We Ended Up On The Same Team, But For The First Week It Was Me Plus Her Best Friends. After That Everything Went Downhill, She Started Hanging Out With Other People As Did I. We Would Always Sit At Lunch Together But She Would Have Nicole & Alexis With Her While I Had Kaylinde?, Aj, & Luis. That Year Got Crazy Between Me And Her Though We Would Fight & Hold Grudges Against Each Other Alot. For Three Whole Months We Sat At The Same Table But Never Talked Too One Another. She Held It To Me That I Wasn't A Good Friend Until I Proved It On That One Day When She Cried And I Was The Only One There. I Would Comfort Her, Tell Her She's Better Than That, & Hug Her Like Crazy. She Found It To Be That I Was Always, And Will Always Be A True Friend Too Her. We Talked About Our Little Immature Fight And Went On With Our Lives Having Each Other In Each Others Life.

Finally This Year We Have Become Closer Than Anyone Else Has In That One Little School. We Call Each Other Almost Every Night & Talk On The Phone For Three To Six Hours. She Has Told Me Secrets I Know I Can Never Tell Anyone & Have To Hold Close To My Heart. I'm The Only Person She Can Ever Trust With Anything & I Always Feel Special When She Says That Because It Shows That She Can Be There For Me Through Whatever. While I Sit There & Be There For Her Through Whatever Also. She Showed Me That There Can Be Real People Out There Who Will Throw You There Feelings & Hope You Don't Take Them For Granite. That Is The One Thing I Am Never Going To Do To Her.

My Best Friend Who I Can Hold To Anything & Everything Is Ms. Faith Allison! I Love You Too Death & Would Never Let/Want Anything Bad To Happen Too You. She Can Be Trusted With Anything So No One Needs Too Put A Label On Her Before They Know Her. I Love You Faithie!<3(:?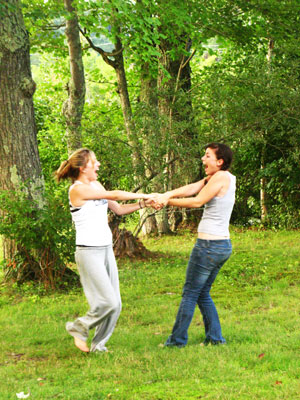 © Chantal C., Falls Church, VA