Emotions.
April 28, 2011
I feel happy today,
I feel happy today, even though I have whitnessed so much. My mother's alcohol addictin, my father leaving us, my grandmother's death, and so much more. Being acquainted with all of this, it drove me crazy. Waking up in the middle of the night.. screaming, because Mother had passed out on the couch... with two bottles of vodka lying next to her.
Anger.
Having to care for my twin sisters, three years younger than me. Brushing their hair, getting them dressed, tucking them in. Sorrow.
Praying to the Lord above.. for wisdom and help. "Dear Lord, PLEASE help me. I cry out to you, do you hear me?"
Guilt.
"Daddy, where are you going?"
"I promise, you'll see me again some day, with Jesus and we will have no worries."
Fear.
A world, with no hope. A world with no faith. And a world with no knowledge.
Shame.
I could go on and on for quite a while. But, why, you may ask. Why are you happy? Because although my Mother lies drunk, there are people out there to help her. Although I have to care for two little children, there is hope. Although I feel guilt asking the Lord for help, he grants it to me. Although my Father left me, I will see him again someday. And although this world often times shows no faith nor hope, I do.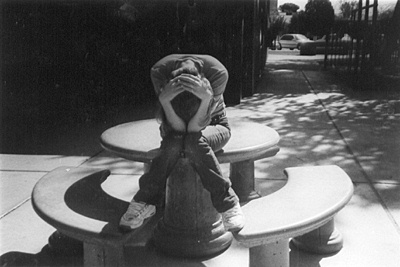 © Catherine R., Phoenix, AZ