Random Conversations of Life (1)
April 21, 2011
The following is written dialogue between my father and I.

So that you can fully understand the conversation; you must first know about my fifth grade Christmas. I loved to read. I read all the time. Though, my dad didn't think I read enough culture. So, he got a fifth grader books like Jayne Erie, Withering Heights, Little Women, and Huckleberry Finn. Now, all these books are good and decent but I was in the fifth grade, and really didn't have the ability to appreciate them.

So, out of all those books I only read two in that school year, and only actually finished one. The one and only book finished was Huckleberry Finn by Mark Twain. Again, I was too young to appreciate the book, and so from then on I had a very strong dislike to Huckleberry Finn and Mark Twain.

(A funny side note would be that the day I finished the book I was so happy. I told myself that it was okay because I'd never have to see another thing that involved Huckleberry Finn or Mark Twain ever again. Well, the next thing I did was my math homework. The very first question was about Mark Twain and his famous story Huckleberry Finn. I didn't take that as a sign, but I probably should have. I would never escape him.)

So, then this year I discovered that for summer reading Huckleberry Finn was on the list for my grade, and that is how the following conversation unfolded (I will apologize now for anyone that this conversation could potentially offend).

Myself
I told my teacher today about how I don't like Huckfinn, but she was very unsympathetic.

Dad
Well, it is a classic.

Myself
I think I told her I hated it.

Dad
(Raises his eyebrows)

Myself
She then told me that this was American English class, and I'd have to read things I wouldn't want to. Though, I don't think she understood the fact that I'd already accepted that I'd have to read it again.

Dad
You do know what it's about?

Myself
Yeah. It's about how a boy who discovers himself on a journey and stuff.
I've read the book twice.

Dad
Why?

Myself
(well actually it was more like one and an eighth times)
Because, I knew people had said it was fantastic and "changed the world of literature." So, I tried to understand the book and where Mark Twain was coming from. I read biographies about Mark Twain's life, and I still couldn't get that far past the point where Huck decides to run away from his drunk father.
I mean what's up with the half sunk steam boat that Huck hears the shady deal going on inside about? It held a spark of interest, but then poof. There was no follow up on that plot line.
Then there was also the two guys that scammed everybody, and ended up getting tarred and feathered.

Dad
I have to admit I didn't find them to be interesting, or helpful to the story either.

(pause in conversation)

Myself
You know there really are only two things that I truly do not like in this world besides sin and Satin.
Huckleberry Finn and
North Dakota.

Dad
Oh yeah, I can totally see how Huck is as bad as the anti-Christ.

Myself
Well, yeah.

(a couple of minutes later)

Myself
So, you read the book?

Dad
Yep.
Great book.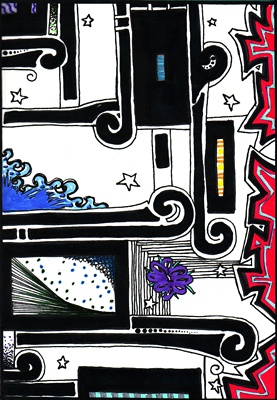 © Jessica D., Burke, VA