Fake Flowers
April 12, 2011
My grandmother is seventy-three years old. Each time the seasons change, she goes to the graveyard. 

Our whole family is buried there. My grandfather, great-grandparents, great-great-grandparents, great aunts and uncles, cousins- everybody. 

Four times a year, my grandmother goes to visit her family in the graveyard. She takes the artificial flowers out of their baskets by each grave and replaces them with new fake flowers. Poinsettias in winter, tulips in spring, daisies in summer, and wildflowers and fake leaves in fall. 

Seasons change. Snow falls, flowers bloom, the sun shines, and brightly colored leaves float to the ground. The artificial flowers change with them. But the one thing that remains the same: the gravestones.

They are never-changing. They are always there, no matter how much time passes. A constant reminder of who they represent. The people who once were. 

I've often wondered why my grandmother goes to change the flowers. I think it's because she misses her family. She wants them to be with her, to experience her life with her. 

She sees the seasons change. She sees grandchildren grow up. She sees baby trees get bigger and produce fruit. She sees clocks ticking away the hours, the minutes, every second. She lives. 

Her family doesn't. They don't get to see what she sees. I think that saddens my grandmother. They miss out. Perhaps her changing the flowers is her way of letting her loved ones experience time, to see change, like she does. Her own way of letting them live.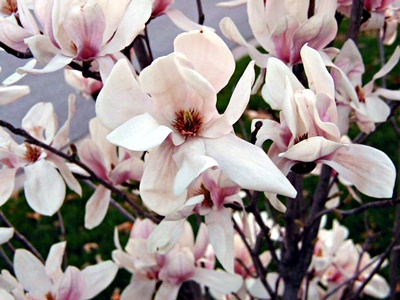 © Brad H., Lemont, IL