Delicious Dilemma
MAG
April 10, 2011
If I didn't cut the ice cream out of my diet now right now, I was going to inflate like a glutinous balloon and pop at an unripe age.

Or so the slender woman on screen proclaimed as she Vanna-Whited a carton of ice cream for us – the studio audience and me.

"It's loaded with sugar and calories! Why eat that when there are so many delicious, healthy alternatives?" She flashed a grin, showing off teeth as milky white as the vanilla goodness she was demonizing. Gingerly placing it down like it was some irascible, rabid animal, she picked up a carton of fat-free yogurt. "Yogurt!" Another grin. "It's a simple, easy switch that could cut hundreds of calories and lead to you losing 30 pounds." Yet another grin. Jeezum, woman, you're gonna make me sick. "Like I did!"

I averted my eyes before she smiled again. If I barfed on my parents' new couch, it wouldn't matter what I ate – guaranteed, my health would suffer. My eyes landed on the bowl in my lap. Ironically, it was filled not with the magical frozen yogurt (though we
had some in the back of the freezer gathering dust, if that's possible in a freezer) but Peanut Butter Explosion, a creamy, delectable dessert loaded with Reese's Pieces and streaked with peanut butter. It was as genius a creation as the microwave and the frozen burritos we stuck in it.

And it contained a mere 170 calories per half cup: far from free – even further from fat free.

Looking at my bowl, I knew I hadn't dished up a half cup. Half a carton? Maybe. Half a cup? Uh-uh.
Before we start making judgments here, let's pause a second. The program ­Little Miss Weight-Loss Cheerleader was starring in was airing on July 7th. Not just any July 7th – the hottest one in five years. If the weatherman was to be believed (in his snazzy gray suit and black tie, he had certainly made a believer out of me), the temperature was going to hit 100 and rocket beyond. Here in Pittsburgh – the city that could never run on solar power because it doesn't get enough sunlight – that forecast was shocking. The only reasonable thing to do was crank up the A/C, park myself on the couch, and dig into a generous helping of ice cream.
But now Vanna Wannabe was ­foiling my plan with her "healthy alternatives," trying to guilt me into trading my Peanut Butter Explosion for some fat-free neapolitan.

Oh, the conundrum! Too much for a 16-year-old to deal with at 11 a.m. on a summer morning. But this problem was not going to resolve itself. I had to think, and fast, before my ice cream melted into a puddle of brown ooze, rendering it incapable of being returned to the carton, should I ultimately choose to do so.

Looking back to the screen, I saw the cheerleader now brandishing a sugar-free fudgesicle, the toothy grin still plastered on her plastic face.

I shifted my gaze back to my lap. The cool breeze rising from the rich, mocha-colored slopes caressed my face. I could almost taste it, almost feel the slippery spoonful sliding down my throat, sweet and delicious. It would hit my tummy, and though cold, fill me with warm pleasure.

All the while, the annoying woman continued to lecture. "Once again, the perfect example of how a product can taste the same but be so much better for you!"

All lies, I thought. There was no way yogurt could bring me the pure joy of ice cream. On the other hand, it also couldn't bring me the calories, the fat, the guilt, and the regrets.

It was a dilemma, to be sure. Right up there with fractional exponents and what outfit to wear to school each morning. What to do?

Screen. Bowl. Screen. Bowl. Smiling woman. Ice cream. Smiling woman. Smiling woman's nemesis.

I snatched the remote beside me and, with all the authority of a schoolmaster, hit the off button and triumphantly dug into my creamy dessert.

I ate the whole thing. Every last damn spoonful.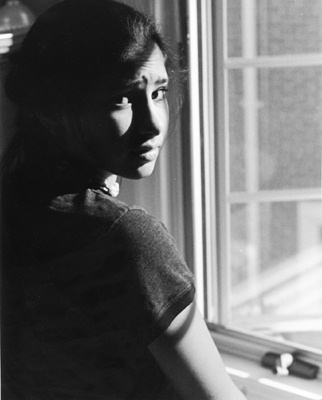 © Jennifer H., Bethesda, MD