I Never Stepped Inside a School
March 31, 2011
I was three years old, and my sister five, when my parents decided that they would home school their children. Since I was still in the life stage where meals appeared out of nowhere and bedtime was the worst evil, I didn't have much of a say. Besides, it didn't really matter to me at that point – my greatest concern in life was whether or not I would go to the park that day. Anything else was merely trivial and not to be worried about.


But while I sucked on my thumb and experimented with various new vowels and consonants, my parents had visited school after school, discarding them one by one for various reasons: unpleasant environment, too pricey, too far, too conservative, too liberal. On top of that, my parents fundamentally disliked school. My mom, who had been pressured and made to skip two grades at a young age, had never quite digested the education system. As for my dad, he was a born hippie who had failed fifth grade and spent his 20s on the road driving a busload of singing gypsies (or so goes the legend). Additionally, and most importantly, a current school reform prompted by a widely disliked politician had torn all hopes of a decent education system away from both of my parents.


And that is how, when we reached school age, my sister and I joined the reported 1% of Canadian students that stayed at home. At first, my parents' decision was met by disbelief and shock from all sides of the family. Grandparents, aunts, uncles, and cousins all took turns at questioning the sanity of our household. What was this "home schooling" thing, anyway? Would we even learn anything? How would we socialize? Were my parents completely out of their minds? In my province, home schooling was extremely rare, and usually reserved to religious fanaticals and vegetarian families of at least six children. Other frequent characteristics of home schoolers were social disorders, mental or physical disabilities, and extreme intelligence – features none of us displayed. Finally, relatives quieted down, decided we were all insane, and went back to their occupations without further discussing the matter.


I never really questioned the fact that we didn't go to school. Over the years, my parents befriended several home schooling families, but somehow we never quite got along with them and these friendships were usually politely cut short. (However, I still have some rather disturbing memories of having breakfast with a family of six children that went to church and ate no cow products.) Despite these experiences, I rather enjoyed our situation, and grew to be very fond of my unusual freedom. I marveled over the fact that, while other children were trapped inside smelly classrooms, I could study in the comfort of my own kitchen and livingroom. I also took advantage of my extra free time to read impressive amounts of novels, write letters to pen pals across the world, and perfect my cooking skills.


Socialization wasn't much of an issue, either. I'm not going to deny it: home schooling does take a toll on one's ability to meet friends. However, in my case it didn't affect my ability to make friends. Although chances to encounter children my age were few and far between, I made quite a few friends over the years. By the time I was a teen, however, I had lost touch with most of them. Although I grew a little insecure and spent a couple of years trapped in my shell, I gradually warmed up and by now I find it increasingly easy to meet people. While I can never expect the kinds of questions I'll be asked about home schooling, questions which can range anywhere between "Why aren't you weird?" and "What do you eat?", I've grown to accept the fact that people will always be a little surprised to learn that I've never stepped inside a school. After all, humans are curious and prejudiced by nature.


Today, I don't really know if I'm more or less intellectually advanced than other students my age. However, I do know that I've learned a lot of other things through home schooling. I found out that crazy decisions can lead to good things. I know that doing schoolwork in pajamas isn't as rewarding as some may believe, and that the best time to bake chicken souvlakis is after midnight. I've figured out that the most appropriate comeback to any stupid question is, "Haven't you ever gone to school?", and I've discovered that some very religious kids on vegan diets can actually be very nice to speak to. I've realized that some people, even if they themselves have thousands of reasons to be branded as "weird", will be the first to judge you. And if there's one thing home schooling has taught me that I will never forget, it's that one simply can't judge a book by its cover.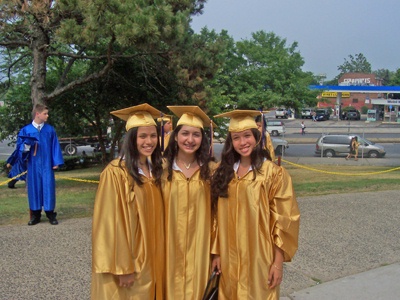 © Elizabeth E., Elmhurst , NY