Simple Gestures
March 14, 2011
"You must be the change you wish to see in the world" -Mahatma Gandhi


Until December 17, 2010, I never thought that the results brought about by a simple gesture regarded as small and insignificant to most people could have such an incredibly uplifting effect on the mood of others. Considering the general attitude of disdain that modern society portrays to the less fortunate, I believe that even the simplest of kind acts can leave a lasting impression in the lives of those who are touched by these gestures.

I remember an experience I had just a couple of months ago. I was being treated out to lunch at Subway in Barre with my mom, and I ordered my usual meal: A foot long BLT on Italian herb and cheese bread with provolone cheese, a fountain drink, and a bag of chips. I was making light conversation with my mom, when halfway through my meal, I saw an older man walk in the door. He had several bags with him, and he was wearing multiple layers of clothing, quite ragged in appearance. A quick appraisal of his worn attire and weary expression upon his face, to the way he carried himself, as if he was holding a weight greater than his bags alone on his shoulders, told me at once he must be homeless. He peeled off three layers of thin, dirty gloves, and two grubby jackets, and proceeded to sit down and unfold a newspaper. I realized, after observing him for a few minutes, he had no intention of eating. Instead, he had come inside to get out of the cold and snow. I immediately felt the urge to do something. My mind started racing. I didn't want him to be thrown out because he was not a paying customer. I was homeless once, I knew what it was like to not eat and feel like an outcast. I despised when people ignored me, and averted their eyes as to not have to see me. So I did the only thing that, at the time, I thought made sense.

"Mom, I'll be right back," I informed her quietly.

I grabbed my unopened bag of chips, and I slid out of my booth. I walked over to the older man and said "Excuse me sir, I noticed you weren't eating. Would you like my chips? I'm finished with them." I was polite and quiet, as I didn't want to provoke feelings of discomfort by embarrassing him or being abrupt and rude.

"Thank you, ma'am," he said softly. I still to this day have never seen anyones face light up the way his did. He reminded me of a little boy on Christmas morning, waking up to see the one gift he hoped for most awaiting him under the tree. Yet all I did was offer him a small bag of Lay's Baked Potato Chips.

I departed his table and made my way back to my seat, rather perplexed by his reaction. I continued to observe him as I finished sipping on my drink, being careful not to stare. He marveled over the chips, turning them over in his hands and smiling. I could feel the joy radiating from his table to mine. In approximately five minutes time, he laid the chips on the table and shuffled into the restroom. That was the last I saw of the man.

Giving the man those chips took less than a minute of my day, yet it made such an impact on my life. I have a feeling this event was, at the very least, the highlight of this man's day. I would like to think that this kind of gesture happens often, that this man showed appreciation for small gifts frequently, and that other community members are thoughtful enough to share their lunches as well, but with my experience in society, simple, kind, selfless gestures are a rare occurance.

Since that day, I have made an effort to really treat others the way I would like to be treated. I had tried in the past, but had never seen much reward in it. When I gave that gentleman those chips, and saw that look of pure joy upon his face, I suddenly saw the benefits in treating others well. I have never felt better about myself in my life. I honestly do believe, that if everyone made an effort to help out a fellow human in need, whether its a spontaneous gesture of offering a homeless stranger lunch, or planning something more time consuming and intricate, the world would be a more peaceful and comfortable place.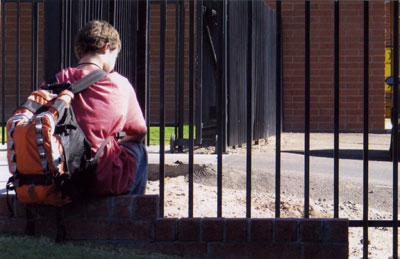 © Molly L., Phoenix, AZ