i will climb out of this god forsaken hole
March 9, 2011
im starting to feel numb. but not numb enough to not feel the emptiness and the sadness that im experiencing. there's some days that i don't want to go through. then there's some nights that i don't want to come. sometimes i wish i could just skip forward to the part where i can be that happy person from the inside out. its hard to explain.
im basically; slowly dying inside.
im not made to be sad.
im not made to be depressed.
im not made to feel the darkness and hide away from it.
i honestly believe im a good descent human being so why do i constantly get tested and get things taken away from me?
david.
i miss him terribly.
everything was slowly disintegrating around me
he was my light.
he was my smile
he was my happiness
he was my hope
he was my good.
now he's gone
i don't know when ill be able to hear his voice again or have a conversation with him.
danni always wanting me to see the down side.
not wanting me to believe in the positive.
its getting harder and harder every passing moment.
im only as strong as my weakest point.
i believe im slowly getting there.
im trying really hard to believe in myself and what i want to happen
i want happiness
i want david and i to remain together.
i want to get a job
i want a stable place to live.
i want my family to be proud of me.
i want the alter ego of me to become the real life me.
i don't want to make myself go numb
i don't want myself to become a hard shelled human being.
im starting to see why danni is the way she is.
i pray to my goddess and to god that they grant me the one thing i want the most. which is happiness.
david.
a home.
a family.
an income.
i don't want to lose myself when im barely finding myself in the midst of all this crazy chaos.
i feel that my heart is not meant to be broken any more or for my hopes and dreams to be stepped on and crushed.
i don't know how im going to take myself out of this deep hole but i want out.
i have to pull myself up and out.
let there be dirt under my finger nails.
let my knees be scrapped
let my muscles be sore from the pulling and pushing.
let dirt stained tears run down my dirty cheeks.
but damn it; i will climb out of this empty, god forsaken hole. and stand and
be able to stand on my own and continue on my way.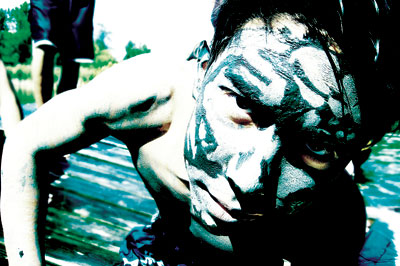 © Seita O., Palatine, IL