Our Last Goodbye
February 20, 2011
I never thought that a coffin could look so pretty… so inviting… I always envisioned them scary, black, terrifying. However, this coffin was different, it was kind of a chocolate brown, and it had a beautiful array of flowers on the top. The flowers made me think of all the times Uncle Donnie, Lydia, Holton, Hunter, and I had gone flower picking in their neighbor's yard. I still couldn't help thinking that this wasn't happing, that it was all just a dream. Up until this point it had been for me. It was just some terrible nightmare I had gotten from eating some bad food that day. The worst part of this nightmare was that I was never going to wake up... and eventually, I would have to let go, that was the scariest thing I could thing of.

The carpet of St. Patrick's Catholic Church was a dingy red. I focused on that while walking into the church as I had a hundred times before, but this time was much different. And I didn't want to accept why it was. I could hear Helen Cooper, Uncle Donnie's mother, at the front of the precession, crying. I looked to either side of me and could make out the faces of the girls I grew up with, girls who hadn't talked to my family for years. I saw Kroger employees that Uncle Donnie always stayed and extra minute or to just to chat with. The worst part of today, is that everyone was losing him in some way… everybody was left with just the memories.

I had never been to a funeral before so I didn't know what to expect. I expected everyone to be dressed in black, with the women wearing veils, but most of the people were wearing plain clothes, which I knew Uncle Donnie would have wanted. Just before we left for the church, while we were saying our "goodbyes" I realized that they had changed him out of a tux, on his daughter's request, into his favorite Harley Davidson t-shirt, his work jeans and his boat shoes. I never thought that the last time I would see him wearing any of these things, would be when he was gone. The things I would always remember about him; his caring eyes; a smile that could melt away your worries; the voice that made you want to stay next to him until the world ended, hanging off of every word; the way he made you laugh while you cried, despite how angry you were. This is why it was so hard for me to say goodbye. To let him go.

As we pulled up to the cemetery, I felt my stomach knot up. I wanted to go home, to forget why I was here. We all got out of the car and walked silently over to the tent that was set up near a hole in the ground. We gathered and the priest started into the whole, "Donnie will be missed," stuff and everyone started crying. At the end, we were supposed to put the flowers we had with us on top of the coffin. We formed a line and everyone placed their flowers on the top of the casket, and said something along the lines of, "Goodbye, Donnie". Before I knew it, it was my turn. I had been the last in line, so everyone was waiting on me.

"I don't think I can…" I started to say, when I was interrupted.

"It's time to let me go," I could hear him say,"You'll be okay, I know you will."

"Okay," I said, as I placed my flower, the last of them, on the top of the coffin, and watched them lower it into the ground.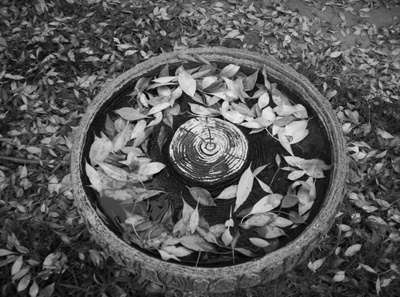 © Lisa N., Hemet, CA