A Family's Love
February 18, 2011
A Family's Love

"The happiest moments of my life have been the few which I have passed at home in the bosom of my family."

-- Thomas Jefferson

Every morning when I wake up, I have to see it. That long scar along my arm. I guess many people wouldn't like it if they were to have it, but I'm actually alright with it? I would say its kind of a connection I have with my mom and the one that she has on her leg and mine as well.

First of all, my family and I have always had a pretty good relationship with each other, everyone gets along with each other. Were all a different puzzle piece without each other we aren't complete. We all want the best for each other and to have a life full of joy and happiness. We all care and love each other and would do anything to keep us safe. I learned this from a experience I had with my mom in a couple of years ago.

I remember my mom and aunt talking with me about that day. She said in a soft voice " I was so worried that day with your aunt I would have done anything to keep you safe".

It happened in El Salvador around October 1999 when I went to El Salvador with my mom and aunt, my mom always has a pair of dark glasses on her and my aunt always had her favorite pair of earring's on. I remember my mom told me about our vacation to El Salvador and how the streets were always full of old cars, people on bikes, and vendors selling different types of fresh fruit. My uncle's house was where my great-grand mom and my other aunt also lives. My uncle would always be wearing his red and blue soccer jerseys shirts from Barcelona and my aunt, the one in El Salvador she would always use a handbag she really liked. My mom had told me that we had all gone to visit my great grand mom, she is pretty short and she was always wearing a flowered apron, and some other family that lives over there. It was my first time going to El Salvador, I was around 3 years old. When we went there we stayed at my uncle's big house.

In addition everything was going pretty well for us when one day while I was walking around the kitchen were the rusty stove was. Out of curiosity I started moving around the buttons that ignite the burners, when suddenly BOOM sparks of fire start coming out of the stove. I just stood still in front of it, and a few sparks of fire got on the shirt I was wearing it and on my right arm as well. The fire was eating my arm and shirt away. When all of a sudden I ran out of the small kitchen with my entire right arm and shirt on fire. My mom told me she was just sitting there when she saw my arm lit on fight and started to panic she started to call my aunt. It was around 12:00 pm when I got the burn.

"Hurry, come over here! Kevin!" my mom yelled.

Everyone got worried and there wasn't anything to put the fire out at that moment, so my mom grabbed me rapidly and put me between both her legs to put it out. It did work, she was able to turn off the fire by holding me between her legs, but she got a 3rd degree burn on her leg. She said it didn't hurt at all at that moment and she said she didn't even feel when it happened. I got a 3rd degree burn as well on the upper part of my right arm. Right after my the fire stopped my great grand mom told my mom to rub tomatoes on it gently to help sooth it down.

Then they took me to the hospital, my mom didn't say anything about the scar on her leg until later when it started to hurt her she just poured water on it lightly to help the pain go away. My aunt then realized she had gotten burned as well but my mom didn't want to make a big deal out of it, even though she was screaming loudly inside her head to herself. Later I was sent back to the house and the doctor would always come everyday and check on me and how I was doing, and carefully treat my wounds on my arm. After a while, I was healing up except for a scar that never got cured. I still have it now and my mom still has hers on her leg.

Furthermore, this event that happened showed me how big a mother's love is for her kids. She has a heart of gold. I still am really grateful for my mom and what she did for me that day to put herself in harms way for me. Up to this day I would say I do feel kind of guilty that my mom got that scar on her leg because of me. Although if she hadn't done that for me, who knows what would have happened to me. This really shows how a mothers love is like none other. Next, my mom told me in a low voice, " I wished that was me in the hospital bed and not you".

I love my family more than anything in the world. That's why I'm really grateful and happy with my family. After all, they're the only people you can trust in the end.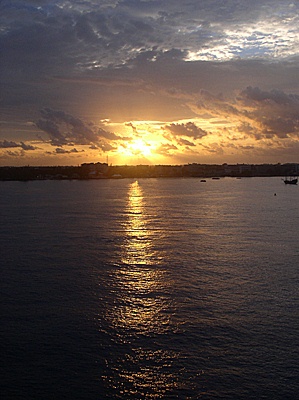 © Rebecca Y., Los Angeles, CA