Hated
February 16, 2011
Sweating, the gleaming brass flickered in the harsh spotlights, even as the introduction rolled on. No one my age had ever dared step up in front of this many people- not singing this kind of music. My knees were tightening, attempting to buckle themselves, my body yelling inside my brain "You can't take the stress!" My inner-self swallowed and took a deep, shaky breath. I wasn't comforting. No one can do what you do, I told myself. No one could do this like you. Another less shaky breath, and I stepped out, my voice suddenly filling the room, a performance no one else could do.
I hate it when they say I'm not an instrument. When, quote, "anyone" can sing; when a group who must have at least a year of musical training AND experience replaces a paying member of the group with a male of no vocal experience, only a callused hand on a bass guitar. I hate it when someone steps up to a microphone and they say they're pro after one not-so in-tune performance at your mother's aunt's sister's wedding, and then screech at the top of their lungs. I mean, seriously, shut up, and hand the mike over before someone ELSE gets hurt. I hate it when people get recognized in the paper or TV show or morning news after getting to sing background at some has-been, or never-was, band's "performance" at a music-fest.
I hate it when they don't recognize me as a musician. Excuse me, I know you think that singing requires only a drink and a gut at the nearest bar, but drunken karaoke isn't ANYONES standard of a good time, let alone a good performance. Who's your audience? Oh, yah- The sullen bartender and dirty hobo who's so drunk, he can't buy his own booze. And the five minute clip of you on American idol? Don't you wonder why you didn't go on? And riddle me this, Sherlock, why you and your "band", if you can call such a slop of saddened, beautiful instruments that none of you have ever truly mastered that, can't seem to land a gig? What a waste of instruments that won't ever get passed your garage and wall hanger, doomed to be clothed in dust, surrounded by toneless imbeciles who thought being a musician was easy. I work just as hard, if not harder, than a guitar player or bass drummer. You memorize repeating chords. Great, I memorize hundreds of constantly CHANGING words. You play a beat- I keep it. I am expected to write the music, and memorize the words, and put on a show, and still take the common courtesy of not being recognized for my hard work. Yes- I know you know that song on the radio, but a musician, more specifically a singer, can recognize that you are off by a quarter- tone at the adlib section of the third chorus. Yes- we do read music. No, we don't get to see it when we perform.
No, you cannot get up and sing in front of fifteen thousand people. I can.
I did. You cannot travel around Texas and then the WORLD singing solos in front of cameras hoping your father is watching from a military base in Honolulu. As my heart pounded in that room, my sweat and hard work reciting the words I had so dedicatedly practiced, that was all I could think about. As I excited the stage, it was but a miracle I landed softly against the concrete floor, shaking and soft mumbles under my breath, unable to describe the exhausting and emotional rush I had felt on stage. It knocked the wind out of me. So please, don't tell me you're a singer, 'cause you cannot do what I do.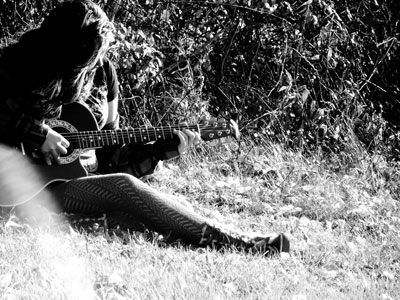 © Chela T., Southampton, NY