Drunk on God's Love
February 8, 2011
As a child and young adult, I struggled with the idea of God. How can He be real if He's invisible to us? I had no idea what I was ready to believe or what I even wanted to believe. I was incredibly undecided about my faith. I was like the ball in a game of ping-pong; back and forth, back and forth. One team was my faith and the other team was my denial. I could feel the latter scoring point after point.
This wasn't quite surprising for me though because, although I had been baptized, I was not raised in a committed Christian household. The closest I had ever come to knowing God was an inadequate introduction to who God is by my mother. I was told that He's in heaven and that if I need anything all I need to do is pray. At this point in my life, I was unsure what this "heaven" was, and what it meant to "pray." All that I knew is that my mother felt strongly about this "God" person and wanted me to feel the same; I could not let her down. This is where my internal game of ping pong began.
Since the time my mother had "introduced" me to God, I became more and more educated about Him. I was only knowledgeable in the basics, though, and was still unable to establish my faith; something was not clicking for me. However, I did not care to learn more, except when faced with difficult times.
During the good and bad times in my life, I was confronted with the idea of God more often than in the past; namely the bad. When the times were on the bad side, I wanted someone to look to, and I was told that God is always there for me. However, when life was good I did not think that I needed God, because I was managing fine without Him.
A generous way through this lively game of ping pong, I was invited to a four day long Christian music festival; Sonshine. Sonshine was, and is, a massive Christian's-of-the-Midwest-area get together. The festival is filled with so many people that everywhere you look there is a sea of color, and to my surprise, a lot of the colors were due to neon hair. There were also many other surprises at Sonshine, such as: fair food, an ocean of tents and RV's, groups of people cheering about being awake at 2 A.M., and couches; an absurd amount of couches.
I was sixteen the first time I experienced Sonshine, and was a concert-loving being. I adored concerts, if not for the music then for the atmosphere. When fine-tuned, you can almost feel where the bass reverberates within your body, and you can just about see the dirt fly up from the ground as the crowd jumps with enthusiasm. You can also see the sweat from a far-too-intense fan fall from the face and you could imagine it splash upon the ground, like the first raindrop of a storm; lonely at first, but soon to be one of many. I was under the impression that Sonshine would be no more notable than the others.
After arriving at the astonishing festival of Sonshine, I notice that it is all I could ask for in a music festival. Sonshine has nearly every band that I adore, a huge merchandise area, and caring, trustworthy people. While there, I witnessed the most trusting thing I had ever seen in my life. A girl around age eighteen had plugged in her phone in an outdoor outlet and had left it for most of the day; no one touched it, no one moved it, no one even questioned it. The people at Sonshine were so unbelievably good that I was shocked. I had never perceptibly been in the presence of people so trustworthy; especially strangers.
Aside from the people at Sonshine, the music and concert experience was magnificent; everything I had imagined. There was the bass reverb, the airborne dirt, and the splashing sweat, but there was also more. After the outward intensity died down a bit, the internal intensity appeared. This was most apparent to me during the performance by the David Crowder Band; a Christian worship band. The music and lyrics hit me hard, but not quite as hard as David Crowder's testimony. David Crowder spoke of nothing far from what I had witnessed from the other performers or even other people in general. It was nothing I hadn't heard before. Still, the effect his testimony had on me was astonishing. His words seemed to hit everyone else like a ton of bricks as well.

As I looked around, I noticed people with their arms reaching out towards the sky and some even had damp faces from the paths tears travelled on. Then it hit me, these people can feel God's love; they are moved from within, they are moved by Him. They can feel what my mother feels. They know God is there when the times are easy and not only when they are tough. They know what it is like to have faith. Their lives aren't like a game of ping pong; they have lives like a gymnast. Gymnasts have established where they are going and they even trust themselves to know where to go next, and they do this all with as much grace as they can fathom.

My life no longer resembles a game of ping pong; I am now headed towards the life of a gymnast. This journey of mine began nearly two years ago, and I am still growing and learning. I, without doubt, praise God for the superb day when David Crowder spoke.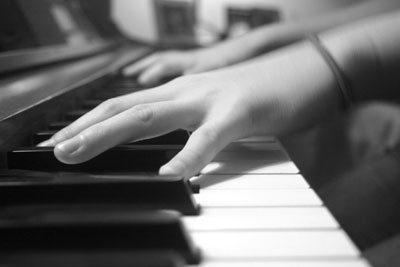 © Elizabeth S., Newton, MA