Fruit Tart
January 17, 2011
I.
The crumbly, feel-like-pie-crust-flakes embers are still settling in the air and faintly burning; their singed edges curl with a glow that is all that remains of a great devastation. Ashes, also, maybe, in deep handfuls of soil and their rich wetness, speckled with feather-gray. You taught me to love a good disaster, and other things, too, like how to misplace the most important parts and how to worry that the world is actually real and everything I have believed my whole life about how it doesn't exist except for in my head was a foolish conviction to hold as close to my beating heart as I did.

II.
The strawberry bushes went all overripe and as heavily laden as they were of course they keeled over in defeat, who wouldn't when they are carrying a bruise-colored burden and no one comes to pluck a little bit off the top? Because no one is busy becoming an arsonist and painting all over yellowredorange. I never understood when you got into that sort of thing, it didn't seem to belong with you, because you were always care, care, you care, I care, and then I stumbled in the minuet of my life and got my feet all mixed up and you didn't, not at all, not even a little, in fact you set fire to my dancing shoes.

III.
You do remember an October evening crisp like a Jonathan apple that had a semi-violet sky with wispy clouds and was perfect baggy-tshirt-and-sweatpants weather. The kind of best moment that is a precious porcelain knickknack still bright as day on the dusty shelf of memory, due to devoted polishing. Mine is an un-begun beginning peering through my fingers at cannibalistic mutant gore. How picturesque. But I thank you from the bottom of my heart for all three-hundred seconds of it anyway. In case you were wondering.

IV.
I brushed past you today, close enough to perceive that slight sweet candied whiff you emanate. We both just stared straight ahead like absolute strangers, because maybe we are. You specifically, purposefully, constantly endeavor to establish the fact, plus you never saw the results of your dirty work and must have forgot that you are indeed a pyromaniac. I know you, I swear I do, from somewhere, from all the veiled corners of my mind that you slink around in. If you insist on pretending, though, that I've never met you and you're just someone with an unfamiliar face I made in my head into the shape of a personal legend, I guess I'll let you… for just right now.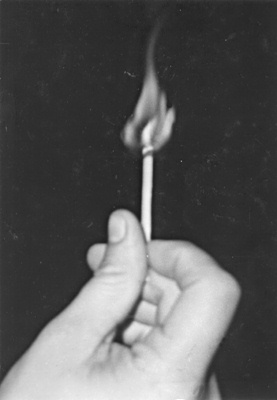 © Stephanie H., Highland Village, TX