Meeting Cody Simpson
January 17, 2011
A few days before November 1st 2010, Cody Simpson tweeted saying he would be in Memphis, TN on November 1st at the FYE in the Wolf chase Mall. This is the same mall Justin Bieber was at a few months before.
My friend Jaimie is the one who called me up and let me know about his Tweet. We are both huge fans of Cody, we have been since he first started posting videos on YouTube, so this was a big deal for us! I asked my dad right away if he could take us when I got out of school.
Once we got to the mall, my dad was starting to worry us by saying things like "I don't think he's going to be here." "There are no signs." But, we didn't let that get to us. As soon as we neared FYE we saw a sign outside of the store that had a picture of Cody and told the time he would be there.
We entered the store, and there was a line already started even though it was two hours before he was scheduled to be there. Jaimie & I bought his CD to get signed and we got these lime green wristband things.
We met a couple of really cool people in the line, so it wasn't so boring waiting in a hot store for two hours.
Finally, we saw the security guards outside of the store start to move around and talk into their walky-Talkies. I was starting to get butterflies, and it was really hot in the store, so I thought I was going to puke. (But no worries, I didn't)
A whole bunch of screams erupted from the line, and people started pointing and screaming out "ALLY!" Ally is his sister. Ally, Cody's parents, and Tom (Cody's little brother) were standing outside of the store with huge smiles on their face.
The family walked in and took their place next to the table where Cody would be standing. Everyone was starting to wonder where Cody was, until 'Iyiyi' started playing and Ally pointed to the back entrance of the store.
I turned my head and saw Cody's blonde hair bobbing up and down from the other side of a CD rack. He walked over to the table and waved at everyone. They didn't want to waste any time, so they immediately started moving the line forward and getting Cody to sign the CD's
While they were doing that, Ally walked over to the line and started talking to some people. Jaimie and I were talking about something random, I'm sure, when Ally came back to where we were and asked if we were excited to see Cody. We smiled and said yes, and asked if we could get a picture with her. She let us, and it was pretty cool. A few minutes later Cody's dad walked over to the line and was talking to some adult in front of us when I looked at Jaimie and said "I'm sure glad my dad isn't here.", when I said that Cody's dad looked at me and said, "What, don't want daddy to embarrass you?" I smiled and said "No…" He said, "Well that's what dad's are for. I embarrass Cody all the time." His dad walked to the people behind us and started talking to them.
Next thing I know, I was up next to get my CD signed. My butterflies had went away by now and I was really excited to go up there. I walked to the front of the table and handed Cody my CD. He smiled and took it and asked me if I was doing okay. He gave the CD back to me with a smile. Apparently I was supposed to go to the side of the table and give him the CD if I wanted a picture also. I didn't know that so Cody started reaching for the next girls CD, but Jaimie caught him and said wait. He stopped and said "my bad". As I was making my way to the other side of the table, I ran into the table. It is just like me to do that. I was kind of embarrassed, but Cody started laughing and asked if I was okay. I got the picture, but I swear I don't remember a thing about it. It's like I went completely paralyzed when I got the picture.
Jaimie and I waited by the door and just watched Cody sign the rest of the CD's for a while. Then, Iyiyi started playing again. A couple preppy looking girls started dancing and screaming out the lyrics in front of Cody but he didn't seem to pay much attention to them. When Flo Rida's rap came on the girls stopped and just started mumbling because they didn't know the words. I laughed because I did, and started quietly rapping it. According to Jaimie, Cody kept looking over at me when I was rapping and had a smile on his face. I wouldn't know, because I wasn't paying that much attention to him.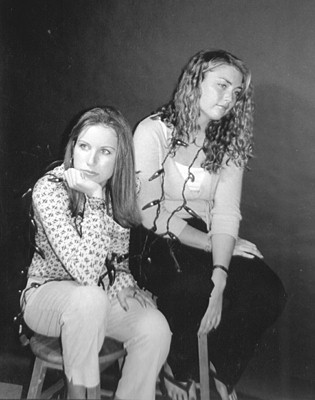 © Hadley B., Marblehead, MA