Growing Pains
January 25, 2011
The day we begin to grow up, is the day we learn to cry how to cry hysterically; the type of cry where the body double's over and our heads is held in our hands, the one where sobs rip our chest apart and we scream in agony while the tears burn our eyes. Although dreaded, everyone comes across this day at one point in their lives. The experience may be different for everyone but it's guaranteed to change us forever. Whether it's trying to understand why our parents aren't living together anymore, or thinking of that drug addict on the corner who used to be our friend or even wondering how to stop loving someone we gave our innocence to, we cry because our youth begins to shatter and we realize whether or not we really want to live in such a sick world. There is nothing that can be done to evade this process of maturing and no way to accelerate through it. All one can do is let the pain rush in and the tears flow out.

My best friend committed suicide the summer before my eighth grade year, beginning my road down adolescence. Before even receiving the news, I already knew something was wrong; the feeling in my heart warned me of this. However, the premonition did not ease the pain. On the morning of his death I sent him a text and waited for his reply for minutes, which soon turned into hours. I tried to contact all our mutual friends and the ones who replied back had not heard from him either, but the ones who didn't reply knew exactly what had happened. I stood at my window and waited for news the entire night. Three hours after midnight a text finally confirmed me of his death. It went on to say where and when the funeral was to be held along with many more details, but I shot the phone across the room before I could even consider reading on. I fell to my knees, and dug my fingers into the ground; it felt as though the earth would cave in at any moment. My head was spinning and I didn't care about a damn funeral, or how and when he took his life. It didn't matter, nothing mattered anymore, except for the fact that the only friend I had ever known was gone forever, and all of it was my fault. I could have saved him; I should have known that he was suffering. But I didn't, all because he refused to cry or show me a sign that he was in severe depression.

Nothing was the same after that day; the world lost its colors, the roses had no smell, and the point of living became obsolete. It took only a few months to find myself sitting in my room with a fistful of pills in one hand and bottle of Whiskey in the other. In that instant of desperation I fell into a trance and reason no longer had an effect on my mind, all I could think about was finally being able to sleep, forever. I brought the cluster of pills to my lips, and could feel hint of excitement with every inch I brought them closer. I had not felt this happy in so long, but it wasn't enough, I needed it to last forever. The moment of truth came and my decision was clear, I closed my eyes and prepared myself for the end. But at the very last second I heard a tiny whisper in my ear, so small and so quiet that one could mistake it for a scratch on the wall or a breath of wind. Even though so small it was unmistakable; this was a voice I had not heard from in so long.

Stop.

It was one simple word but it had so much power inside it, enough force to break me of the spell I was in and bring me to tears. Everything fell out of my hands and all my emotions spilled from my heart, I cried for hours that night and did not sleep a wink. But when morning came it felt as though I finally had rested, after being unable to sleep for so long.

With out a doubt, crying saved me from committing the same mistake my best friend had made. It shocked my system and reminded me of the promise I made to him long ago, the promise to stay alive for as long as I could. So for the both of us, I lived and did everything he never was able to experience. At times, it hurts so much to think of all the memories we shared. But then I cry and the pain goes away, because it is tears of joy I am shedding. I have a Guardian Angel watching over me, he holds my hand as I cry and as I become better, and learn to smile for him again.

Crying is one of the most important tools God gave us because it keeps us human. It is one of the few elements of our youth that follows us into adult hood and even though it is a labeled as a childish act is necessary to become an adult. The premature death of my friend exemplifies this because before he never cried. Instead he held all his fears inside of him and suffered alone, until one day he could not take the torment of his demons anymore, and finally gave into their callings. If he had shed even one tear I may have finally realized he was suicidal before it was too late. To avoid the fate we suffered from, I believe everyone should cry when the time is right. Whether we're alone, with friends, enemies, family, or strangers; if we cry around others one of them is bound to help us. All of us can relate to the pains of growing up when we see another cry, and hopefully when another is in need we will help them through the whatever they are going through by letting them know that everything will be alright.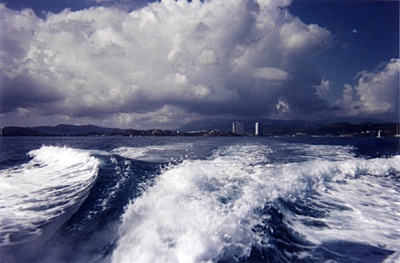 © Jenn T., Dover, NH