Metal Strings
January 22, 2011
My covers were pushed to the end of my bed, draped lazily over the sides, spilling onto the ugly fuchsia carpet that lined my floor. The house was quiet, or at least my bedroom was, where I sat with a laptop balanced on the pillow in front of me. The light from the screen cast a glow on my face as I bit down on my lip, showing every wrinkle in my brow. On my lap was a long wooden instrument. With a hole in the middle and metal strings running down it's length, the guitar was a bit too small for me, but I was inexperienced and didn't know this. I stared at the chart on the screen for a few long seconds, before lowering my brown eyes to the neck of what used to be my mother's guitar. I positioned my untrained fingers in a pattern across the strings, and then flexed my hand to hold down each string. I clumsily swiped my hand across the strings that ran across to opening of the hole, and the noise it made seemed almost in tune.
The chords above the lyrics to the Taylor Swift song I was determined to learn were simple; D A Em G. But for a first timer, the familiar letters meant almost nothing to me. But over the course of the half-hour I had taken so far to teach myself this new skill, I was beginning to get the hang of it. This wasn't so hard, after all. I repositioned my fingers, my tongue poking out from between my lips as it often did when I was focused on something. I bent my previously stiff knuckles, and found this to be much easier. Then, I strummed.
A smile broke across my face, and I strummed again, this time humming the verse that went along with the chord. And to my surprise, it sounded good. It sounded right. I glanced at the chord chart, and placed my fingers onto a new pattern of strings. Then, pressing hard, I strummed again. To my surprise, a legitimate, in tune note sounded from the vibrating strings. I grinned.
I didn't know at the time that playing the guitar would come easy to me as I practiced more, and I definitely didn't know that it would become one of my favorite hobbies. But it did. Even as I'm sitting here writing this, there are two guitar cases resting against the chairs in the room. One of them is mine, and guess what? It's not too small, and I'm experienced enough to know that.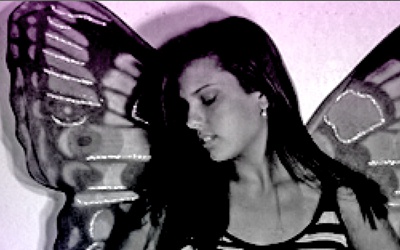 © Kathleen M., Rowlett, TX