A Childhood Remembered
January 20, 2011
High school just started. Life became chaotic. I couldn't control my life anymore. It felt like I was taking a huge jump to high school, not a leap. I had homework to do but I pushed that aside. I needed to put my life back together. I needed to find my self and patch my life up.

I walked out of the house. The wind pierced my skin. I had to ignore the pain. I bent my knees down to lye on the snow. I was finally relaxed.


My head gazed up to the sky; it was a mixture of day and night. Ironically it symbolized my life. A middle school girl colliding with high school.


My eyes closed, wondering what to do. A memory resurfaced. A picture of me as a little girl giggling in the snow. My longing to be that girl fueled my anger. My past years seemed simple

My eyes opened. The moonlight shimmered in the snow, as if a feather was falling. I knew I had to abandon one side of my life. Moving on was what I had to do. I got up to see a snow angel imbedded into the ground, gazing up at the stars. My body turned but my head stayed. I looked back as a piece of my child hood lay in the snow, waiting for me to return.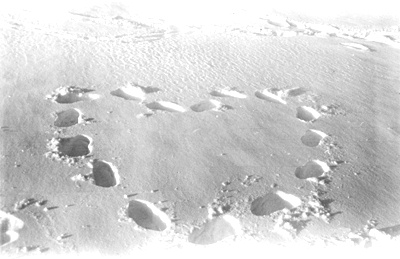 © Kim B., Marblehead, MA