Encounter With Freedom
January 12, 2011
I was trapped, forced by my own will to endure the consequences of my decision. It was about 9 AM, and the stench of the room was already caught in my nostrils; I could feel the chemically-induced migraine approaching. My mother and I were sitting across from each other with only a coffee table and a small stack of magazines between us. However, the guilt separated us by miles as she gave me one of those "Why are you doing this to me?" looks. She failed to realize that there is a first for everything, and this had to be done.

Moments later, I sat facing my reflection and staring at the photographs of various women posted to the side of the mirror. That is what I will look like in a few minutes, I thought. The woman standing next to me grew impatient of mine and my mother's overemotional display, and picked up a pair of scissors to signal that she was ready to go.

My mother was pleading, "Do you really want to do this?"

"Absolutely," I said, hiding my doubt with a nonchalant stare.

Then, unfamiliar sounds were brought to my ears; snipping, cutting, trimming. The scissors began to cut above my ponytail, and I imagined myself as one of those colonial war amputees, watching as the doctor saws off my arm. Knuckles turning white, I waited to feel something, whether it be actual pain from this loss or just some mind-blowing epiphany. I caught my mother's eyes in the mirror and I panicked for a second, realizing that this was it, no turning back.

Suddenly, I felt lighter, different, freed from myself and changed into someone new completely. After a half hour of chopping and styling, the ponytail was gone and all that remained was a chic bob of light brown hair that about touched the bottom of my chin. At thirteen, my encounter with freedom came to me in a rare form: my first haircut.

The first time I donated a foot of my hair to Locks of Love, it was a joint effort to help both myself and another. I spent almost my entire childhood as the girl in long French Braids, always looking innocent, girly, and sweet. I would often beg my parents to take me for a haircut, hoping to escape my reputation of wholesomeness and create an identity of my own. After donating my hair, no longer was I the girl in pigtails, but now, I believed, I was a young adult ready to take on the world by use of my style and poise. Before this external change, I would have been too afraid to take risks like joining the debate team at my high school and going on a trip to Italy without my parents, some of the most enjoyable experiences of my high school career. As well as growing internally, donating hair to charity has brought me happiness and relief knowing that I could help a young girl be confident and comfortable. As the sister of a cancer survivor, I understand what any serious disease can do to a family, and donating my hair has been my way to ease someone's pain. Cutting my hair also gave me the confidence to try new things like getting bangs, dyeing my hair red with Kool Aid, and donating two more feet of hair to Locks of Love. Although our appearances do not define our character, my various hairstyles have taught me that change can often be rewarding and taking chances is the only way to discover who we will someday be.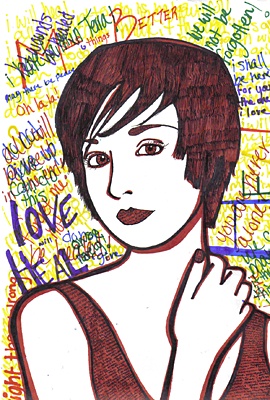 © Sara D., Aiken, SC