Excitment
January 12, 2011
I remember the day I left for Australia like it was yesterday. The memories are so vivid in my mind. They stand out like a full moon in the night sky.
I can remember going to bed the night before departure at about seven-thirty. I of course didn't fall asleep until like one in the morning, I was too excited to sleep. I kept thinking and trying to imagine what Aussie world would be like. The Outback Desert the Great Barrier Reef and so on. I finally dozed off into the deep sleep I had been hoping for a little late though by oh well. Before I knew my mom was rubbing my shoulder gently saying, "Stephanie honey wake up the biggest adventure of your life awaits you." I looked up at mom and smiled at her and immediately the butterflies started. I had no doubt that it was going to be a long morning, because the plane didn't even depart until about one or so, but we had to be there about two hours early.
I remember flying out of bed wide awake and throwing on my maroon travel People to People shirt with a pair of tan pants. I thumped down the stairs to the breakfast table I wasn't really hungry but knew that this was going to be the last home meal for seventeen days. I finished packing my items in my suitcase and was relieved when I knew I had everything, because I had it ready the night before. Then my dad offered to bring my suitcase down to the trunk of the Kia Sorento. I of course agreed to this plan I had previously tried to lift my suitcase and realized that it was way too heavy for my liking. By this time it was ten thirty-five I had about ten minutes till we would be leaving for the airport. I couldn't wait, but I sat at the table anyway and pretty much stared at the clock for ten minutes and watched the second hand move leisurely like it was in no hurry. Finally before I knew it was eleven forty-five, YEAH!!
My mom, dad, sister and I hopped in the car I took my last look at the house, took a deep breath and leaned back in my seat of the car. The anticipation was building up as high as the Chrysler building. I thought we would never get to the airport the ride there seemed to drag on endlessly. Finally we pulled into the driveway to the airport.
Now I was energetic and wound as tight as a spool of thread. My dad parked the car and out my sister's window I noticed that my delegation leader was just unloading her suitcase out of her vehicle. I had gotten out of our SUV and went to the trunk and opened it up. My dad took out that heavy suitcase and set it right side up on the concrete pavement. Amy, my delegation leader, and I exchanged excited looks and big smiles. We both were excited and couldn't wait for the adventure to begin. As I walked into the airport I could see some of my other friends waiting with their parents. They all seemed to be just as excited as I was.

A good twenty minutes went by and we were starting our count off to get started on our line to the security lines. I remember looking at my mom dad and sister to say my last goodbyes for seventeen days.

I will never forget the way they cried when they looked at me, but GOD I can't even begin to tell you how excited I was to depart on what was truly the biggest adventure of my life.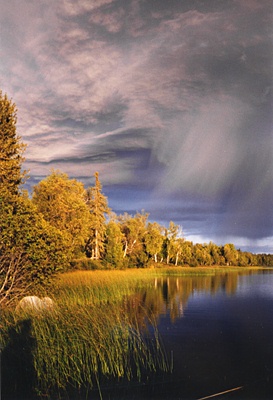 © Dustin B., Nikiski, AK