Good morning, Beautiful
January 9, 2011
We were onstage. I just got done saying my line. I walked over to where you were standing, looking straight at your sexy face. I was supposed to stop right behind you, but I couldn't. I reached out for your hand, and you reached out for mine.
The whole world seemed to be on pause, just for us. I ran. I ran all the way offstage with you still attached to me. We just swished past the dark green curtain, staring straight into your eyes. I kissed you on the cheek, incredibly nervous.
What would you think? We had been friends for a year now, but nothing more. You simply stared into my blue eyes, looking me up and down, searching for the answer as to why I could have kissed you.
I grabbed your face, forcing you to look into my eyes, because I knew that you would find the answer there. Suddenly, your light blue eyes softened. Slowly, softly, you kissed my lips. You kissed my cheek, just as sweetly and whispered, "I love you, Molly."
You continued to kiss my trembling pink lips until we heard cheering. The show was over. We had to hide. We ran upstairs heading for the makeup room without being able to keep our hands off each other. Minutes later, we were there.
You trapped me against a wall, as your perfect, light pink lips caressed mine. Your had your hands around the small of my back. They got lower and lower until you had your hands on my lower hips. You lifted me up, carrying me to the counter. In one thrust, your hands threw all of the makeup on the floor making room me to sit with my skinny legs wrapped around your stomach. My cold hands ran through your silky blonde hair. Your lips were so gentle, and soft, Troy. You tasted so good to me.
You pushed back my curly dark brown hair just behind my shoulder so you could kiss my neck. Your fingertips slip right under the bottom edge of my shirt to feel my warm smooth skin. I tore your shirt off, and you slowly slipped off mine.
I stared at your defined muscles and broad shoulders. You looked at my flat stomach and silky black bra. Unable to wait any longer you kissed me. Our lips continued to make love, refusing to be apart until I heard my phone vibrate.
I'm lying in my bed now. I lean over to check my phone. I just woke up to a 'good morning, beautiful' text from my boyfriend, Adam.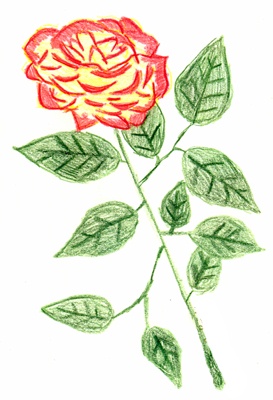 © Kelly Z., Niscayuna, NY